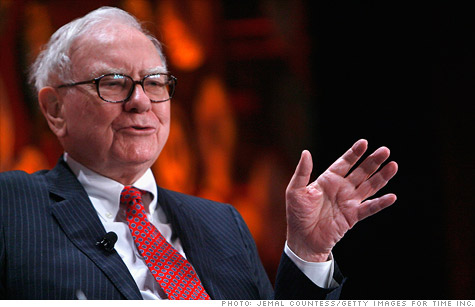 Lunch with Warren Buffett and 7 other people in New York will cost the winning bidder $2,626,411.
NEW YORK (CNNMoney) -- The winning bidder for a lunch with billionaire investor Warren Buffett made one final decision late Friday -- that he or she wanted to set a record.
Glide, the charity that benefits from the charity lunch auction with Buffett, announced that the anonymous bidder raised the winning bid after the auction to $2,626,411. That tops the $2.6 million record for the event set in last year's auction.
The charity announced the raised bid after a fundraising event in San Francisco revealed the winning bid of the auction, conducted on eBay, was $2,345,678. The winning bid was originally made Monday, when the anonymous bidder topped the previous offer by $100, resulting in the bid of sequential ascending numerals that held up for the remaining four days of bidding.
There were seven bids in the auction on eBay, with the first bid of $25,000 coming Sunday. Bidding ended at 10:30 p.m. ET Friday.
The winner will have lunch with the so-called "Oracle of Omaha" and up to seven guests of the winner's choice at the Smith & Wollensky steak house in New York City at a date to be determined.
The proceeds will go towards Glide, an organization that benefits poverty-stricken residents of the San Francisco Bay area. Buffett has donated a lunch with him to the charity -- which was a favorite of his late wife, Susan -- for 12 years.
"We do raise money, and money counts, so I urge people to unbutton their wallet, to pull out a check, to reach into the purse, whatever it takes, and contribute," said Buffett, in a video on Glide's website.
Buffett said that he supports Glide because "they took the people that the rest of the world had forgotten, people who'd given up on themselves. And they felt that every human being had potential, no matter what their circumstance."
Buffett, chairman of investment firm Berkshire Hathaway (BRKA, Fortune 500), is a billionaire who is often courted for his investing expertise.
He famously gave much of his wealth to another billionaire philanthropist: Microsoft (MSFT, Fortune 500) co-founder Bill Gates, of the Bill & Melinda Gates Foundation.