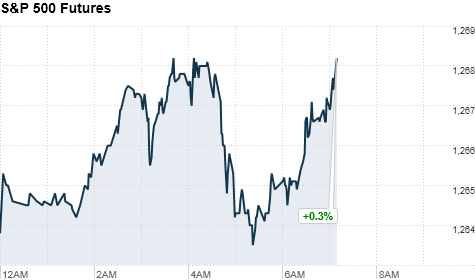 Click chart for more premarket data
NEW YORK (CNNMoney) -- U.S. stocks were headed for a modestly higher open Monday, following a six-week losing streak that's been led by fears of an economic slowdown.
Dow Jones industrial average (INDU), S&P 500 (SPX) and Nasdaq (COMP) futures were up slightly ahead of the opening bell. Futures measure current index values against perceived future performance.
U.S. stocks tumbled Friday, with each of the three key indexes falling more than 1%, and the Dow ending below 12,000 for the first time in months. Overall, the Dow has fallen 3.7% since the beginning of June and the Nasdaq erased all of its gains for the year.
No major U.S. economic data is on tap Monday, but two corporate deals announced before the opening bell could drive early gains.
The rest of the week brings a data-heavy schedule with retail sales and consumer prices reports among the bigger drivers.
"We're in for a nervous week," said David Jones, chief market strategist at IG Markets. "A lot of people have had a tought time in the market over the last six weeks -- we've had rallies that just keep getting smashed lower, so everyone is now nervous that any rally won't last."
Last week, stocks managed to have one strong day amid the daily losing streak but it will take more than one rally to bring stability back to the market, said Jones.
"We're not going to see it turn on a dime," Jones said. "We need to give markets at least a week of stability before there's anything to get excited about."
Companies: VF Corp. (VFC, Fortune 500), the maker of Wrangler and The North Face brands, said early Monday it is buying Timberland Co. (TBL) for $43 per share, creating a $10 billion apparel and footwear company. Shares of Timberland climbed more than 40% in premarket trading.
Shares of Wendy's/Arby's Group (WEN) jumped nearly 7% after the restaurant chain agreed to sell Arby's to a private equity group led by Roark Capital Group. Wendy's will retain an 18.5% ownership interest in the Arby's business.
Meanwhile, Honeywell (HON, Fortune 500) announced plans to acquire EMS Technologies (ELMG) for $491 million in cash.
New York Attorney General Eric Schneiderman has launched a new probe into Bank of America's (BAC, Fortune 500) mortgage securities and related foreclosures, the Huffington Post reported Monday.
Investors appeared to shrug off the news. Shares of Bank of America edged higher in premarket trading as did other banks, including JPMorgan Chase (JPM, Fortune 500), Goldman Sachs (GS, Fortune 500) and Wells Fargo (WFC, Fortune 500).
Shares of Citigroup (C, Fortune 500) rose modestly in premarket trading despite a Wall Street Journal report that said the bank waited three weeks before notifying customers of a recent hack attack.
Shares of Gilead Sciences (GILD, Fortune 500) fell more than 3% after the company disclosed late Friday that the Department of Justice was investigating certain manufacturing and quality practices.
World markets: European stocks were mixed in morning trading. Britain's FTSE 100 tumbled 1.2%, the DAX in Germany edged up 0.1% and France's CAC 40 rose 0.3%.
Asian markets ended the session mixed. The Shanghai Composite lost 0.2% and Japan's Nikkei slumped 0.7%, while the Hang Seng in Hong Kong added 0.4%.
China is slated to release its latest consumer price index data overnight. Investors will be looking at the report closely for any hints of a slowdown in growth.
Currencies and commodities: The dollar edged up against the euro and the Japanese yen, but slipped versus the British pound.
Oil for July delivery slipped $1.03, or 1%, to $98.26 a barrel.
Gold futures for August delivery fell $1.20 to $1,528 an ounce. Silver and copper prices both declined more than 1% as well.
Bonds: The price on the benchmark 10-year U.S. Treasury edged slightly lower, pushing the yield up to 2.99% from 2.97% late Friday.