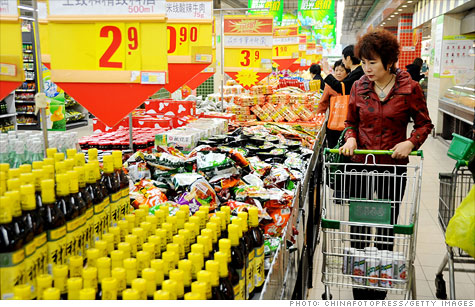 Shoppers look over higher food prices at a supermarket in Lianyungang, China.
NEW YORK (CNNMoney) -- China's rapid pace of inflation picked up again in May, even as the government stepped up its efforts to tame rising prices.
China's inflation rate rose slightly to 5.5% in May -- up from an increase of 5.3% in April, according to China's National Bureau of Statistics.
After the announcement, China's central bank raised the reserve requirement ratio for depository financial institutions by half a percentage point, effective June 20.
It was the fifth time the bank has raised the reserve rate -- a way to rein in inflation -- since March. Each time, the bank raised it by half a percentage point.
Even though China's reserve requirements are now at a record high of 21.5% for big banks and 19.5% for smaller banks, rapid inflation remains the chief problem facing its economy.
"The fight against inflation's not yet done. Don't be surprised by additional hikes in coming months," said Qu Hongbin, co-head of Asian economics research at HSBC, said in a research note.
Economists were expecting the inflation rate to come in at 5.5% in May, driven by higher food prices. Food prices rose 11.7% over the past year. They were up 11.5% year-over-year in April.
Chinese food prices have been rising at double-digit rates since October, delivering a massive blow to the purchasing power of Chinese consumers.
Meanwhile, China's government has said that taming inflation to a rate around 4% is one of its key economic goals for the next five years.
As part of those efforts, the People's Bank of China has raised interest rates four times since October and hiked the amount of reserves it requires banks to hold.
Inflation in China could be bad news for American consumers, since it drives up the costs for items imported to the United States.
But higher prices for Chinese products could also make goods made in the U.S. more competitive.
Inflation in China appears to be one reason why China's overall exports have slowed a bit as of late. China's government reported last week that exports rose 19.4% year-over-year in May, down from an increase of nearly 30% in April.
Higher prices in China could also help the job market in the U.S. Inflation raises Chinese wages, making it less attractive for American firms to outsource jobs to the country.