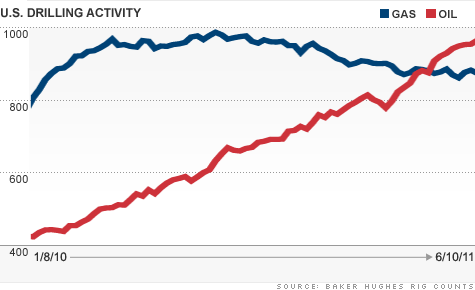 Working oil rigs are tropping the number of rigs drilling for natural gas for the first time since 1995. Click chart for commodity prices.
NEW YORK (CNNMoney) -- Natural gas prices could double over the next several years as U.S. producers gain access to international markets and excess supplies begin to shrink.
After nearly collapsing in the aftermath of the recession, natural gas prices have managed a nice post-recession recovery and are up 3% this year.
Just last week, prices jumped to $4.80 per million British thermal units following a bullish outlook from the International Energy Association and forecasts for warmer weather.
Don't expect prices to rebound back to their 2008 peak above $13 per million BTUs, but experts say prices could top $8 over the next several years.
"We're getting ready for a sustained turnaround in natural gas prices and sentiment," said Peter Tertzakian, chief energy economist at ARC Financial in Canada.
A key driver of that change is the opening of a gateway to meet rising foreign demand, particularly in emerging markets.
Last month, the Department of Energy approved a plan for Houston-based Cheniere Energy (LNG) to export liquefied natural gas overseas from a terminal in Louisiana, granting the first ever such authorization.
And that could prove highly profitable for U.S. natural gas exporters since natural gas prices in Europe and Asia trade at more than triple what they trade at in the United States.
Natural gas prices in Europe and Asia are more closely linked to oil prices, such as Brent crude, which is currently trading about $22 more than U.S. crude, said Jeff Rottinghaus, portfolio manager of the T. Rowe Price U.S. Large-Cap Core Fund (TRULX).
The United States is also the world's biggest natural gas producer, accounting for 19.2% of global supply, according to the most recent statistics from the IEA. And many European and Asian markets have a thirst for U.S. quality natural gas.
"U.S. is the Middle East of the natural gas market," he said. "If we can ship to Europe or India or wherever, natural gas prices will move higher to catch up with what importers are willing to pay, even though [U.S. and European prices] won't ever reach parity."
Cheniere expects it will take until at least 2015 to build the export plant in Louisiana, but Deutsche Bank chief energy economist Adam Sieminski says prices could near $8 per million BTUs by then as other U.S. natural gas producers seek similar export approvals.
Furthermore, the excess supply, which has come to the market during the last several years following the discovery of shale gas resources is starting to dwindle.
That's also because companies such as Houston-based EOG Resources (EOG, Fortune 500) are focusing their drilling efforts on crude oil, noted Rottinghaus.
Crude oil spiked to nearly $115 per barrel earlier this year, and is at least three times more profitable that natural gas, said ARC Financial's Tertzakian.
In fact, the number of working oil rigs are now topping the number of rigs drilling for natural gas for the first time since 1995, according to rig count data from Baker Hughes.
"That's clear evidence that things are beginning to shift in response to pricing," said Sieminski. "That shift will likely tighten up the oversupply in the market and give natural gas prices a boost."
The biggest beneficiaries of the changing dynamic in natural gas are producers such as Range Resources, (RRC) which has a significant position Marcellus Shale, and Southwestern Energy (SWN), said Rottinghaus.