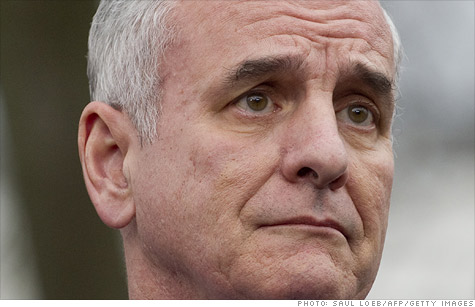 Minnesota Gov. Mark Dayton is preparing for a state government shutdown.
NEW YORK (CNNMoney) -- Time is running out for Minnesota's parks and highway rest stops, not to mention 36,000 state employees.
If Gov. Mark Dayton and lawmakers don't agree on a budget by June 30, the state government is expected to shut down. The state moved one step closer to this outcome on Friday by sending layoff notices to much of the state workforce.
Should officials not resolve their differences in time, state parks and highway stops could be shuttered over the busy Fourth of July weekend. Forget about renewing a driver's license. Nonprofit agencies may have to suspend their social services if their state funding disappears.
As for the state workers, they'll have to wait to see who is deemed critical. The rest could lose their pay, and some their health benefits. The unions have already launched a campaign pressuring state officials to pass a budget.
On Wednesday, Dayton released a list of services and staffers that would remain on the job in the event of a shutdown. He deemed nearly 13,250 positions as critical, though a judge will ultimately decide the list.
Among the services and agencies that would stay open are: State patrol, corrections, unemployment insurance claims, food inspection, newborn screening, Medicaid and food assistance, courts, conservation law enforcement and veterans homes. The Minnesota State Colleges and Universities System will remain open.
At issue is whether to close a $3.6 billion budget shortfall by increasing taxes or making spending cuts. The decision must be made before the fiscal year ends on June 30.
The governor, a Democrat who ran on a platform of taxing the rich, wants to hike the levy on the wealthiest 1.9% of Minnesotans. This would close half the deficit, leaving the rest to be eliminated through spending cuts.
"This is the reasonable, responsible middle ground," Dayton said last month.
But the Republican lawmakers who wrested control of the Capitol from Democrats in November say they will not support a tax hike. Instead, they are offering to fund "kids, cops and courts" at the level Dayton proposed, while cutting elsewhere.
"This new budget compromise offer reflects our longstanding objective to prioritize state spending within available resources," Senate Majority Leader Amy Koch said last week.
State government shutdowns are relatively rare. To be sure, many states have entered a new fiscal year without a budget in place. But most continue operating either by passing short-term spending plans or, as some are required to do by law, by continuing to fund their operations at the previous year's level.
Minnesota has shut down only once before, and that was only partially. In 2005, the new fiscal year started without budgets in place for K-12 education, transportation and health and human services. All but essential activities stopped in these departments for eight days. Some 9,000 workers were furloughed.
In 2006, New Jersey's Atlantic City casinos shut down for three days as a result of a partial shutdown that put 45,000 state employees on unpaid leave. And in Tennessee, public university classes and road construction stopped, while parks and many state agencies were closed during a partial three-day shutdown in 2002.
"It can be disruptive," said Todd Haggerty, policy associate at the National Conference of State Legislatures.
In Minnesota, the two sides will resume negotiations this week, but in the meantime, state residents are left in the lurch.
State agencies are currently devising contingency plans. But they are not the only ones scrambling. Many nonprofits depend on state funding to provide services don't know whether they'll be able to continue caring for the mentally ill or developmentally disabled, maintain legal assistance for the indigent or help victims of domestic violence and rape.
"Overnight, very vulnerable populations would find themselves unable to access community-based services that add to the public safety for all people," said Jeannie Fox, deputy policy director for the Minnesota Council of Nonprofits.
Beyond that, residents would not be able access many state facilities and services, such as licensing bureaus and cultural institutions.
"There clearly will be a great deal of disruptions for Minnesotans in a lot of different areas," said Nan Madden, director of the Minnesota Budget Project.