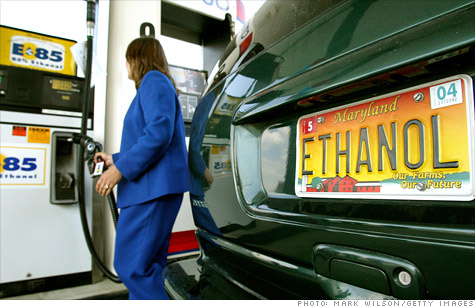 NEW YORK (CNNMoney) -- Ethanol subsidies are still alive and kickin'.
The Senate rejected an amendment Tuesday that would have put an abrupt stop to tax breaks and incentives for corn-based ethanol products popular with farm-state lawmakers.
Introduced by Sen. Tom Coburn, a cantankerous Oklahoman known as "Dr. No," the amendment fell short, failing in a 40-to-59 procedural vote as members of both parties joined in opposition to the measure. Sixty votes were needed for passage.
Coburn, a conservative Republican, framed the elimination of ethanol subsidies as a responsible way to cut the nation's deficit, and found himself allied with some unusual bedfellows: environmentalists.
"Eliminating the ethanol tax earmark and tariff would be a big step toward restoring fiscal sanity in Washington," Coburn said in a statement. "Ethanol is bad economic policy, bad energy policy and bad environmental policy."
Environmental advocates have long questioned the ecological benefit of ethanol, which is blended with gasoline, claiming that it takes as much energy to produce as it yields.
The federal tax subsidy, currently 45 cents a gallon, expires on Dec. 31. Given the current cost-cutting mood in Washington, locking down an extension is far from certain despite the strong support it enjoys from powerful farm-state lawmakers.
Coburn's office estimates the amendment would have saved taxpayers $3 billion for the remainder of this year, and a total of $6 billion annually.
Some Republicans -- normally eager to cut from the budget -- said they viewed Coburn's amendment as too extreme, favoring more gradual changes to the subsidy system.
Other lawmakers remain skittish over changes to the tax code that could be construed as a tax hike. Ending the subsidies would mean the end of the special tax breaks received by farmers.
Some influential Republicans, such as Americans for Tax Reform President Grover Norquist, consider that a tax hike. Coburn clearly doesn't.
"Today's way of doing business is a tax increase on anyone who can't hire a tax lobbyist or make large donations to special interest groups in Washington," Coburn said. "Taxpayers are tired of this game and expect us to eliminate wasteful special interest spending in all of its forms."
House Speaker John Boehner told reporters Tuesday that the debate over ethanol would continue for the rest of the year, and indicated reform may be in the cards.
"Clearly there is a big debate here in Capitol Hill about what to do with ethanol," Boehner said. "But clearly I think changes are on their way."