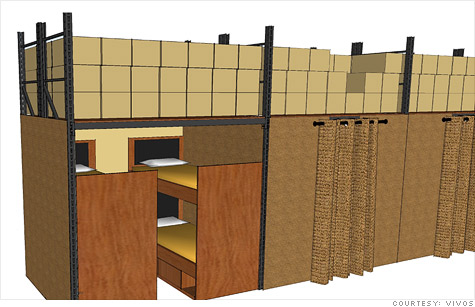 A company that sells high-end doomsday bunkers is branching out with an "economy class" -- with spaces selling for $9.950. See inside
NEW YORK (CNNMoney) -- A company that sells luxury doomsday shelters is branching out with a new "economy class" bunker that costs $9,950.
Vivos is building the cheaper facility to accommodate the growing number of people worried about "life-extinction events" such as super volcanoes and asteroids but can't afford to shell out $35,000 for the fancier model.
The company, based in Del Mar, Calif., started out a couple years ago focusing on pricier products.
Rooms in the five high-end bunkers it is building start at $25,000 and features include medical and dental centers, bakeries, pool tables, pet kennels and fully stocked wine cellars.
All told, Vivos has more than 10,000 "members" in its apocalypse community -- some of whom have merely "applied" for spots in the bunkers and others who have plunked down refundable $5,000 deposits.
After the March 11 earthquake in Japan, the company said reservations skyrocketed nearly 1,000%.
And while Vivos says interest in the luxury bunkers remains strong, two-thirds of its members expressed in a recent survey that they wanted a cheaper alternative.
Enter the Vivos 1000, which will be scaled down to the bare necessities.
"This may be your only chance to secure a spot in Vivos and to have a far better survival solution than trying to survive on the surface," Vivos CEO Robert Vicino said in a statement. "Waiting until the masses realize the end is near will be too late! Ask yourself, which side of the door do you want to be on?"
Like the more expensive models, the Vivos 1000 -- which is 100,000 feet and will fit 1,000 people -- will be able to withstand a 20-megaton nuclear blast within six miles, according to Vivos. Customers are required to put down a $2,500 deposit to save a room.
The complex was originally designed as a luxury shelter, with spacious suites for everyone, but the company decided last week to convert it to an economy class version -- squeezing four beds into each room and knocking down walls to add curtains in their place.
Hundreds of people have already expressed interest in the new facility, said Vicino.
One problem with the scaled-down model: Customers are promised only six months of "autonomous" survival, while the luxury bunkers provide survival for up to a year.
Vivos doesn't reveal the exact locations of its bunkers due to security concerns. But the company said its cheaper facility is located in Nebraska, "far from known targets, fault lines, all oceans, and well above the subsided earth changes envisioned by many predictions." (Video: Financial apocalypse for doomsday followers)
In making the sales pitch for its bunkers, the company presents multiple end-of-days scenarios on its website. There's the killer asteroid that would completely destroy humanity or the super volcano that could eject more than 1,000 cubic kilometers of lava and cause the deaths of millions of people.
And now more people will be able to escape these catastrophic events.
"What was previously perceived by many to be a survival solution only for the 'elite,' is now affordable to virtually anyone wanting a 'boarding pass' into an impervious Vivos shelter to survive Armageddon, or whatever cataclysms may be ahead for our planet," Vicino said.