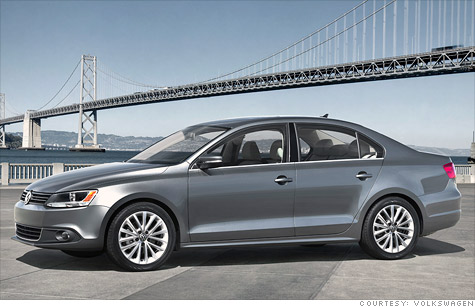 The new VW Jetta is selling well despite digs from citics at influential magazines like Consumer Reports and Car & Driver.
NEW YORK (CNNMoney) -- The reviews are in and some very influential critics say the new 2011 Volkswagen Jetta just plain stinks. But car buyers are snapping it up like crazy, anyway.
At $15,365, the base price VW Jetta for 2011 is about $2,400 cheaper than it was in 2010.
That's part of the reason that VW Jetta sales are up over 71% from last year. But it's not the whole reason because, despite the low base price, Jetta lovers are spending plenty on their new rides.
According to Edmunds.com data the average 2011 Jetta, upgrades and options included, sells for about $26,000, almost $1,000 more, than last year despite the lower starting price.
The VW Jetta is also selling with almost no rebates or other purchase incentives, according to Edmunds.com, and it's among the quickest cars to sell once it arrives on a dealership lot.
Those gains are particularly important as Volkswagen (VLKAF) aims to meet aggressive sales goals. By 2018 the automaker hopes to sell at least 1 million vehicles in the U.S., counting both its Volkswagen and Audi brands. The two brands sold a combined total of roughly 360,000 vehicles last year.
The new Jetta, a model targeted specifically at the U.S. market, is part of brand make-over for VW that includes a new U.S.-targeted Passat, which will be built in a new Tennessee factory, and a new New Beetle.
Mastering the Internet: One reason the Jetta's doing so well, despite getting trashed by such publications as Consumer Reports is that the new car is better positioned to battle competitors on car shopping Web sites with improvements in readily quantifiable areas like the base price and roominess.
The lower base price means that when car shoppers pit compact cars against one another using comparison tools on Web sites like Edmunds.com or AOL Autos, the Jetta doesn't immediately stand out as the most expensive.
VW also gave the new Jetta a roomier back seat and a bigger trunk, factors that show up as immediate benefits when comparing the Jetta to other compact cars in those on-line spreadsheets.
Why the critics panned it: Those car comparison tools mostly don't factor in subjective points like ride and handling or interior quality, things that Consumer Reports whacked the Jetta for when ranking it dead last among compact cars.
"Handling is less agile, and interior fit and finish, formerly world class, is now unimpressive," according to the capsule review on the ConsumerReports.com Web site.
Consumer Reports is generally regarded as the single most influential publication among car shoppers and recommendations are highly sought after by automakers.
VW takes issue with Consumer Reports criticism of the Jetta's driving qualities, VW spokesman Corey Proffitt said.
"We don't see any difference in braking or handling," he said.
Car & Driver magazine also puts the Jetta at the back of the pack, said editor-in-chief Eddie Alterman.
Magazines like his are for car connoisseurs, though, Alterman said. Today's Jetta buyers may not realize they're getting ground chuck instead of the sirloin VW used to be known for.
"The things we look at very closely, things like the architecture and the sophistication of chassis components, are often lost on mainstream car buyers," Alterman said.
VW's risky maneuver: The risk for VW in pursuing a broader audience is that the automaker might lose the things that endeared the brand to past buyers, Edmunds.com chief executive Jeremy Anwyl.
"When you have a core market and you try to move beyond that," he said, "you risk losing the essence of who you are."
At stake is VW's reputation for sophisticated driving dynamics and a high-quality look and feel, he said.
Not everyone is so negative on the new car. Motor Trend magazine, for instance, ranked the Jetta fourth among a group of eight competitors in a recent comparison test. Although it finished far behind the Hyundai Elantra, the top-ranked model, it beat out such new entries as the Ford (F, Fortune 500) Focus and General Motors' (GM, Fortune 500) Chevrolet Cruze and the perennial top-seller in the compact class, the Toyota (TM) Corolla, Motor Trend editor Ed Loh said,
At least some early buyers have noticed that their new Jetta isn't quite as nice as past versions, but that doesn't mean they regret the purchase.
Brian Virtue, who owns an older-model Jetta as well as the new one, boasted of the car's "peppy engine" and said, in an email, that the car "feels a bit bigger this time around and a little less agile. Not by a lot though."
He also noted some evident cost-cutting on the car's interior and in the stereo system.
"I am happy with my choice," he wrote. "It took me over 6 months and chose the Jetta! [It's] still an awesome car!"
That's the sort of response VW is counting on, VW USA president Jonathan Browning said in an interview just before April's New York Auto Show.
"I think at the end of the day, customers are the ones that make the final decision," he said. "They're the ones that put money on the table and they're certainly voting with their checkbooks at the moment."