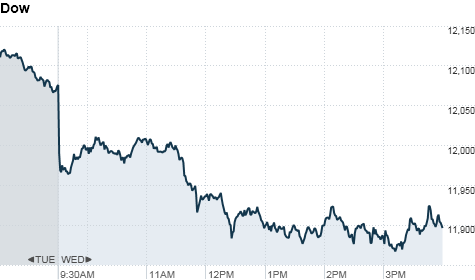 Click chart for more market data.
NEW YORK (CNNMoney) -- U.S. stocks finished sharply lower Wednesday after gloomy manufacturing data and renewed fears aboout Greece's debt problems sparked a sell-off.
The Dow Jones industrial average (INDU) dropped 179 points, or 1.5%, with all 30 of blue-chip index's stocks trading lower. Bank of America (BAC, Fortune 500) and JPMorgan Chase (JPM, Fortune 500) were among the biggest laggards.
Other financial stocks followed suit, with shares of Wells Fargo (WFC, Fortune 500) and Citigroup (C, Fortune 500) down about 2%.
The S&P 500 (SPX) slipped 22 points, or 1.7%, with a 13% drop in shares of Owens-Illinois (OI, Fortune 500) leading the decline. The glass container maker cut its earnings guidance, citing rising manufacturing costs.
The Nasdaq composite (COMP) lost 47 points, or 1.8%. Baidu (BIDU) was among the worst performers on the tech-heavy index, with shares down almost 5%.
News that European officials failed to reach an agreement on bailing out Greece "continues to drive fear and cues the overall downtrend in the market," said Ryan Detrick, senior technical strategist at Schaeffer's Investment Research.
Wall Street's most widely cited measure of volatility and fear, the VIX (VIX) , spiked more than 16% to 21.32. But it's still far below 30 -- the level that's thought to indicate investor fear.
Investors were also disappointed by a sour reading on regional manufacturing activity. "Today's number further confirms that activity has dropped, so that is a major concern," Detrick said.
The market has been weakening since the start of May, and stocks are on track to decline for a 7th straight week. The S&P 500 is now barely positive for the year, up only 0.6%. The Nasdaq is already in the red, while the Dow is barely holding on to a 3% gain for the year.
What a difference a day makes. U.S. stocks rallied Tuesday, with all three major indexes posting their best performances since April 20. But volume was light so the bounce lacked conviction.
Economy: Consumer inflation picked up more than expected last month, with growth driven by increased food prices, the government reported Wednesday.
The Labor Department's consumer price index rose 0.2% in May. Economists polled by Briefing.com expected consumer inflation ticked up by 0.1% in May, down from the 0.4% rise in the previous month.
Meanwhile, the Empire State manufacturing index declined to a reading of negative 7.8, while economists were forecasting a reading of plus 10.
A report from the Federal Reserve showed that industrial production rose 0.1% in May, while capacity utilization climbed to 76.7% last month. Both readings came in slightly below economists' expectations.
Companies: Shares of Carnival (CCL) slipped 3% after the cruise-line operator lowered its fiscal 2011 earnings outlook earlier this week -- leading some analysts to cut their price targets for the company.
Scotts Miracle Gro (SMG) cut its full-year forecast as well, sending shares of the lawn-care product maker 6% lower. The company said continued bad weather has led to lower consumer demand.
Internet radio site Pandora began trading Wednesday on the New York Stock Exchange under the ticker symbol "P." Shares of Pandora (P), which priced its initial public offering at $16 a share, closed up 9%.
Shares of Ford (F, Fortune 500) fell 2% after the auto maker's vice president and controller Bob Shanks suggested that second-quarter profit will come in below consensus estimates during remarks at an investor conference.
World markets: Greece's troubles pressured world markets Wednesday.
In addition, Moody's issued a warning that it is reviewing the debt and deposit ratings at three French banking groups for possible downgrade.
European stocks tumbled on the double dose of bad news. Britain's FTSE 100 lost 1%, the DAX in Germany slipped 1.3% and France's CAC 40 dropped 1.4%.
Asian markets ended mixed. The Shanghai Composite fell 0.9% and the Hang Seng in Hong Kong dipped 0.7%, while Japan's Nikkei edged higher by 0.3%.
Currencies and commodities: The dollar rallied almost 2% against the euro. It also rose versus the Japanese yen and the British pound.
The stronger dollar pushed oil prices down more than 4% to their lowest level in nearly four months. Oil for July delivery sank $4.56 to settle at $94.81 barrel.
Gold futures for August delivery rose $3.40 to settle at $1,527.90 an ounce.
Bonds: The price on the benchmark 10-year U.S. Treasury rose, pushing the yield down to 2.97% from 3.10% late Tuesday.