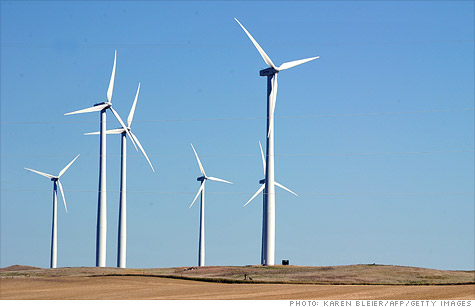 Products made with electricity generated with at least 25% wind power will meet the new standard and get a consumer logo.
NEW YORK (CNNMoney) -- The wind power industry unveiled a new standard Wednesday that will qualify products to get its WindMade consumer logo.
Products made with electricity that's at least 25% derived from wind power will meet the new standard and be awarded the WindMade logo.
The logo -- three concentric blue crescents -- will be affixed to the products, much like recycled products get the three green arrows or organic products get the U.S.D.A. stamp.
The idea is to give consumers the choice of buying products made with clean wind power or dirtier fossil fuels, a choice the industry hopes will lead to a greater demand for wind.
"At it's core, WindMade gives the consumer the choice between a world they want and a world they don't," Darlene Snow, head of the Wind Energy Foundation, said at a New York press conference. "Just as you can choose between raw sugar and high fructose corn syrup, you can now choose between wind power and fossil fuels."
Supporters also said choosing wind is a way to foster clean energy development, especially at a time when politicians have been unable to pass restrictions on greenhouse gasses.
"It lets consumers take the reins in determining how we build out our power structure," said Elizabeth Salerno, chief economist at the American Wind Energy Association.
No word yet as to what companies or products might eventually get to use the logo, but several well-knows firms have acted as advisors including Microsoft (MSFT, Fortune 500), Wal-Mart (WMT, Fortune 500) and Ikea.
The World Wildlife Fund and PricewaterhouseCoopers are also partners on the project and are working to ensure the verification process is legitimate.
The logos will start appearing on products early next year.
Companies that get at least a quarter of their overall power from wind will be able to use the symbol on corporate promotional materials starting this fall.