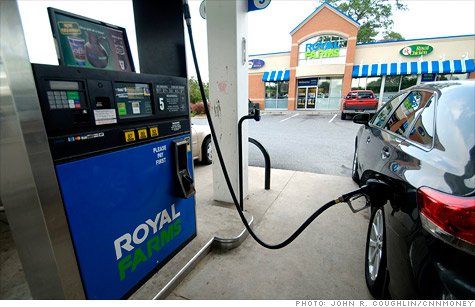 Gas prices have started to fall but higher food prices are starting to hurt consumers as well.
NEW YORK (CNNMoney) -- The pace of inflation continued to climb in May, as the recent pullback in gas prices was not enough to ease the strain on consumers' wallets.
The Consumer Price Index, the government's key inflation measure, rose 3.6% over the past 12 months. That compares to a 3.2% rise in April when gas prices were still climbing rapidly.
Gas prices fell 2% in May but are still up 36% over the past year. Food prices jumped 3.5% compared to a year ago.
But the so-called core CPI, which strips out volatile food and energy prices, rose just 1.5% over the past 12 months. Still, that's the biggest increase for core CPI since January 2010. Core CPI rose 1.3% year-over-year in April.
Economists, as well as the Federal Reserve, typically give more weight to core inflation when judging price pressures, since changes in food and energy prices are usually considered temporary.
That's the reason the spike in energy prices earlier this year has not prompted the Fed to raise interest rates or take other steps to rein in inflation. The Fed's policy meeting committee meets next week to discuss interest rates but few believe inflation will be the Fed's biggest worry.
"While the bigger monthly rise in core prices is a concern, a lot of it was due to temporary factors that could be reversed in the next few months," said Paul Ashworth, chief U.S. economist for Capital Economics.
But many worry that higher prices for consumer goods are hampering the struggling U.S. economy, which has suffered from slowing growth and a pullback in hiring in recent months.
Top economists surveyed by CNNMoney last week indicated they thought there is a growing risk of another recession, although they still consider it a long-shot at this point.
But higher prices for such essentials as food and gas are hurting consumers. Businesses are also struggling with higher raw material costs.
"Slower growth, both here and abroad, appears to be increasingly likely," said Jim Baird, partner at Plante Moran Financial Advisors. But he said a slowdown could limit inflation pressures going forward.
"Ultimately, any easing in growth should ease some of the upward pressure on oil and other commodities," he said.
Along those lines, gas prices have continued to fall. According to the most recent daily AAA survey of gas prices, the national average for a gallon of gas stood at $3.689. Prices have dropped 7% in the past month.
CPI rose 0.2% in May alone. Economists surveyed by Briefing.com had expected a 0.1% increase. Core CPI jumped 0.3%, the biggest rise since the summer of 2008 and above forecasts of a 0.1% increase.