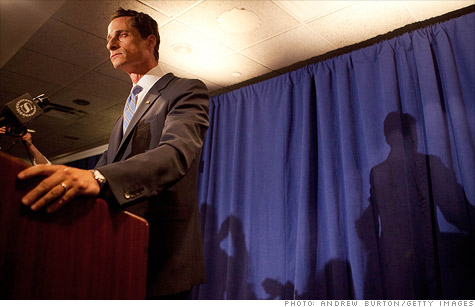 Rep. Anthony Weiner owns stocks worth between $190,000 and $285,000, according to 2010 disclosure forms.
NEW YORK (CNNMoney) -- Anthony Weiner officially resigned as a congressman Thursday after apologizing again for sending lewd photos of himself over the Internet.
But the New York Democrat has a few hundred thousand dollars in assets that he can fall back on, if need be.
Weiner owns a portfolio of 19 stocks worth between $190,000 and $285,000, according to 2010 disclosure forms.
The Weiner portfolio is made up of mostly blue-chip stocks such as 3M (MMM, Fortune 500), Dow Chemical (DOW, Fortune 500), Cisco Systems (CSCO, Fortune 500) and Merck (MRK, Fortune 500). But he also owns shares of more adventurous technology and energy firms, including Micron Technology (MU, Fortune 500) and Rowan Companies (RDC), a drilling services company.
Weiner made a total of eight stock transactions last year, according to the filing. He sold shares of Dow, McGraw-Hill (MHP, Fortune 500), Wells Fargo (WFC, Fortune 500), and Motors Liquidation Co (MTLQQ)., the remnants of the old General Motors.
The congressman reported capital gains between $200 and $1,000 on one of those transactions, and interest income in the same range on another.
Meanwhile, Weiner purchased shares of Live Nation (LYV, Fortune 500), Cisco, Corning and the Williams Companies (WMB, Fortune 500), a natural gas producer.
The disclosure forms also showed that Weiner made a charitable donation of $850 related to an appearance he made on "Real Time With Bill Maher" on HBO.
Weiner has been in the spotlight since late May, when a lewd photograph of him became public after it was sent to a woman over the Twitter social networking service.
After initially claiming that his account had been hacked, Weiner eventually admitted that he sent the picture and had engaged in several inappropriate relationships with women he met online. Leaders of both parties, including President Obama, have suggested that he resign.
"Unfortunately, the distraction that I have created" has made it "impossible" to continue his work in Congress, Weiner said at a press conference in Brooklyn, N.Y.
Weiner apologized "for the personal mistakes I have made and for the embarrassment I have caused" to his neighbors, his constituents and his wife.
-- CNN senior congressional correspondent Dana Bash contributed to this report.