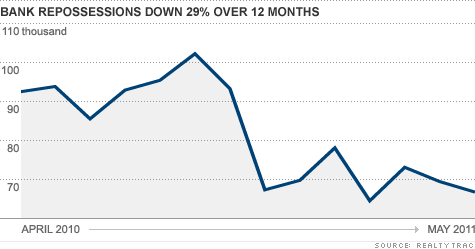 NEW YORK (CNNMoney) -- Foreclosure filings experienced their eighth straight month of declines, according to RealtyTrac.
In May, filings fell 33% from a year earlier and 2% month-over-month, according to the online marketplace of foreclosed properties. The number of homes that were repossessed (referred to as REOs or real estate-owned properties) in May also declined to 66,879, down 3.8% from April and 29% year-over-year, the firm said.
The huge year-over-year drop in foreclosures doesn't necessarily mean the housing market is staging a recovery, however.
James Saccacio, the CEO of RealtyTrac, says the declines are likely due to lingering effects of the "robo-signing" scandal, which broke last September, when it was discovered that banks were playing fast and loose with foreclosure documents.
In some cases, it was found that banks brought foreclosure proceedings upon homeowners when they had no standing to do so. Sloppy paperwork sometimes made it impossible to tell which entity was the rightful owner of the mortgage notes.
To help fix the mess, foreclosure proceedings were temporarily suspended. Even though the suspension has since been lifted, the pace of foreclosures remains significantly slower as banks more thoroughly review each case to ensure they are being handled legally and properly.
"Foreclosure processing delays continue to mask the true face of the foreclosure situation," said Saccacio. "Lenders are somewhat unevenly pushing batches of bad loans through foreclosure as they overhaul their paperwork and documentation procedures."
There's another factor at play, as well. The banks can't sell the homes they've already seized so they aren't as incentivized to repossess more homes.
"[There's] weak demand from buyers, making it tough for lenders to unload their REO inventory," said Saccacio. "Even at a significantly lower level than a year ago, the new supply of REOs exceeds the amount being sold each month."
The banks don't want to take on the expense of maintaining the homes -- property taxes, heating costs, repairs and insurance -- if they can't sell them quickly.
Selling off the inventory of repossessed homes is crucial to the housing market, said Jim Gillespie, CEO of Coldwell Banker. Sold at steep discounts, REOs compete with new homes for buyers and have severely depressed new home sales.
"That's a critical element for the economic recovery," said Gillespie. "If new homes were selling anywhere close to their levels of five years ago, it would add a full point to the GDP."
The steepest drops in filings have come from judicial states, ones in which the courts are involved in repossessions. In these states, where foreclosure proceedings are subject to the scrutiny of the courts, it appears banks are taking special care to make sure they've stamped out the last vestiges of the robo-signing issues.
Nevada, where most cases are handled outside of court, continued to be foreclosure central. One of every 103 households received a notice of some kind in May. However, that was an improvement of 23% compared with May 2010. Arizona, with one filing for every 210 households, and California, one for every 259, were second and third.
The judicial state of Florida, where the housing market is no better, has seen a much greater drop-off in filings over the past year, down 62%. It now has the eighth highest foreclosure rate, of one filing for every 461 households. A year ago, it was in the top four, along with the other "Sand States."