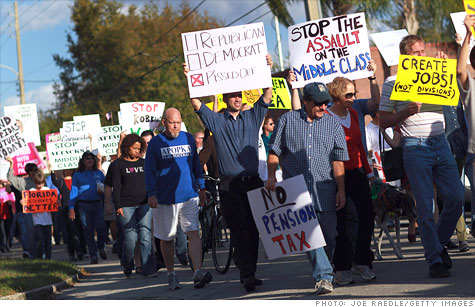 Florida teachers have filed a lawsuit seeking to stop pension contributions.
NEW YORK (CNNMoney) -- Florida teachers have filed a lawsuit seeking to stop the state from requiring them to contribute 3% of their pay towards their pensions.
The lawsuit, filed Monday by the Florida Education Association in Circuit Court in Tallahassee, argues that the new mandate is unconstitutional because Florida law says employees do not have to contribute toward the state retirement system.
The plaintiffs in the lawsuit also include sheriff's deputies, a nurse, social workers and other public employees. They are all members of various unions. The group is seeking class action status.
The teachers' union, which calls the contribution a pay cut, is also protesting the reduction of cost-of-living benefits. The Florida Police Benevolent Association joined the lawsuit.
"This pay cut was used by legislative leadership to make up a budget shortfall on the backs of teachers, law-enforcement officers, firefighters and other state workers," said Andy Ford, president of the teachers' union. "It is essentially an income tax levied only on workers belonging to the Florida Retirement System."
The new contribution requirement is one of several cost-saving measures contained in the fiscal 2012 budget that Governor Rick Scott signed into law last month. It will take effect on July 1.
The governor and state lawmakers, who were wrestling with a $3.6 billion budget deficit, have said that public employees should help finance their own retirements.
On Monday, Scott said asking state employees to pay a small percentage into their pensions is common sense.
"Floridians who don't work in government are required to pay into their own retirement," he said. "This is about fairness for those who don't have government jobs. Plus, we are ensuring a pension will be there for state employees when they retire."
Members of the Florida Retirement System have not contributed to their pension since 1974. The system collects retirement money for more than 900 state and local government employers, covering 655,000 active workers and 219,000 retirees.
The Florida teachers' union represents 140,000 members.
Governors across the nation are leaning on state workers to pay more toward their retirement, saying the current system is unsustainable. Many are increasing the amount employees pay toward their contribution or raising the minimum retirement age.
States have also been shortchanging their pension contributions for years, leading to yawning shortfalls that have raised concerns among municipal bond investors.
States faced a $660 billion gap in their pension accounts for fiscal 2009, according to a recent Pew Center on the States report. However, the deficit has likely narrowed since then thanks to a stock market recovery.