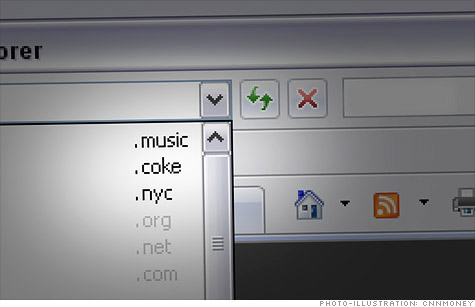 NEW YORK (CNNMoney) -- The trusty old Internet addresses we know and love -- the .coms, .nets, .orgs -- are about to get some new competition.
Global Internet regulators met Monday in Singapore to finalize rules for a major expansion of "generic top-level domains," that will clear the way for new offerings like .law, .coke or .nyc. Sites with those endings are expected to start rolling out late next year.
"Today's decision will usher in a new Internet age," said Peter Dengate Thrush, chairman of ICANN's Board of Directors. "We have provided a platform for the next generation of creativity and inspiration."
The Internet Corporation for Assigned Names and Numbers -- the non-profit, global coordinator of the Internet's naming system -- has for years been kicking around the idea of suffixes for brand names, cities and general keywords. But because changes to the Internet's domain structure have complex and global ramifications, ICANN moves toward them at a glacial pace.
Way back in 2000, the organization decided to expand the domain-name system. Since then, it has gradually rolled out a handful of new domains, including the controversial .xxx domain that got the green light in March.
Early Monday ICANN approved a plan that will open the floodgates and accept hundreds of applications for new domains. Potential competition is keeping most organizations from disclosing their plans, but a few have gone public with their interest: .nyc, .paris, Unicef, Deloitte, Hitachi and Canon.
"The way things are now, technically anyone can buy a dot-com domain to imply a relationship with a brand," says Ben Crawford, CEO of dotBrand Solutions, a recently launched consulting and services company.
Crawford is also the head of CentralNic, a London-based domain registry and the parent company of dotBrand Solutions. He set up the offshoot company to get an early toehold in a market that's non-existent now but could soon be doing big business.
Crawford thinks dot-brand sites will be a hit with major companies. In addition to marketing benefits, they could help on the security front: HSBC, for example, could tell customers that a purported HSBC site isn't legitimate unless it ends in .hsbc. And a company like Verizon (VZ, Fortune 500) could market products at cellphones.verizon and store locations at losangeles.verizon.
But these benefits don't come cheaply -- or easily. ICANN charges at $185,000 per domain application, which Crawford says typically must include about 150 pages of policy documents.
Technical setup takes another $100,000 or so, he says, and upkeep can cost an additional $100,000 each year.
ICANN is slated to begin reviewing applications in November or December, and says that new domains should roll out in July 2012.
"Given how long this all has taken, that could easily slip to the end of next year," Crawford quips.
It's a slow and painstaking process. With domains like .law and .sport, many suitors may be battling for the same coveted keyword. So if multiple applicants want a single domain, and ICANN deems them equally worthy, it goes to auction -- which could end up costing millions.
And even if two keywords aren't exactly the same, "confusingly similar" domain suffixes are verboten. That is, if an apple farmers' union grabs .apples, then iPad maker Apple (APPL) would be blocked permanently from registering .apple.