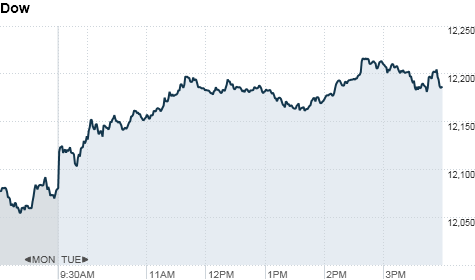 Click the chart for more market data.
NEW YORK (CNNMoney) -- Stocks posted solid advances on Tuesday, with technology shares leading gains, as investors awaited the confidence vote for Greek Prime Minister George Papandreou later tonight.
A smaller-than-expected decline in existing home sales also helped lift markets.
The Dow Jones industrial average (INDU) rose 110 points, or 0.9%, with 26 of the blue-chip index's 30 components moving higher.
Aloca (AA, Fortune 500), Caterpillar (CAT, Fortune 500) and DuPont (DD, Fortune 500) led the gains, with shares up more than 3%. Procter & Gamble (PG, Fortune 500) was the biggest laggard, down roughly 1%.
The S&P 500 (SPX) added 17 points, or 1.3%, and the tech-heavy Nasdaq Composite (COMP) jumped 58 points, or 2.2%.
The Nasdaq was led higher by Research in Motion (RIMM), whose shares surged in the last hour of trading on heavy volume, closing up more than 10%. The move comes less than a week after the BlackBerry maker's shares plunged more than 20% after missing estimates and announcing layoffs.
Whole Foods Market (WFM) was also a top performer on both the S&P and Nasdaq. The grocer's shares spiked more than 6% one day after its rating and price target were raised by BMO Capital Markets.
Traders remain heavily focused on Greece's vote of confidence, to be held by the Greek parliament after the U.S. markets close. The vote is expected to determine whether Papandreou's government has the strength to avoid a default and secure a rescue package.
"There's a lot riding on this vote," said Marc Pado, chief investment strategist with Cantor Fitzgerald. "Greece is only a small part of the European debt crisis, particularly since banks across Europe hold a lot of the debt."
Investors expect Papandreou to win the vote, said David Levy, portfolio manager at Kenjol Capital Management. He thinks the markets will likely enjoy a relief rally.
"Greece is not coming off the front pages anytime soon," Levy said. "But seeing how officials handle the Greek situation will serve as a guide for how other countries that come into trouble down the road will be dealt with, and that gives investors some certainty."
Investors are also looking ahead to the conclusion of the Federal Reserve's two-day meeting Wednesday afternoon.
"Everyone knows QE2 is ending later this month, and that we're not getting a QE3, but investors will be looking for some guidance from the Fed on where to go from here," Levy said.
U.S. stocks managed gains Monday, even as investors remained cautious about Greece's debt crisis.
But those gains were limited as investors grappled with the latest news on Greece. European finance ministers said Monday that the country won't receive fresh loans until mid-July.
World markets: European stocks closed higher ahead of the vote. Britain's FTSE 100 rose 1.4%, the DAX in Germany jumped 1.9% and France's CAC 40 added 2%.
Asian markets ended the session higher. The Shanghai Composite climbed nearly 1%, the Hang Seng in Hong Kong gained 1.2% and Japan's Nikkei rose 1.1%.
Economy: Existing home sales fell 3.8% to an annualized rate of 4.81 million in May, from a rate of 5 million in April, according to the National Association of Realtors. The figure was better than the 4.79 million pace economists had forecast.
The Federal Reserve Open Market Committee starts its two-day meeting Tuesday. The central bank's interest rate decision will be announced on Wednesday.
Companies: JPMorgan (JPM, Fortune 500) agreed to pay $154 million in fines to the Securities and Exchange Commission on Tuesday on charges that it mislead investors regarding mortgage-backed securities. Shares rose 1%.
The board of Best Buy Inc. (BBY, Fortune 500) board authorized a new $5 billion share repurchase program to replace its previous $5.5 billion share repurchase program. Shares of the company rose 3%.
Shares of Renren (RENN) slipped 5% even as the Chinese social-networking site reported a narrower loss in the first quarter, with sales up 47%.
Drugstore chain Walgreens (WAG, Fortune 500) reported third-quarter results before the opening bell that beat expectations, with record earnings and revenue.
Separately, the company announced that contract renewal negotiations with pharmacy benefit manager Express Scripts (ESRX, Fortune 500) have been unsuccessful, so it will no longer fill prescriptions using Express Scripts beginning in 2012. Shares of Walgreens fell 4%, while shares of Express Scripts edged higher.
Shares of Barnes & Noble (BKS, Fortune 500) fell more than 2% after the bookseller posted a wider-than-expected loss of $59.4 million for its fiscal fourth quarter and sales that missed expectations. The company said it is still reviewing the $1 billion buyout bid from Liberty Media.
Media software giant Adobe (ADBE) said it earned an adjusted profit of 55 cents a share, beating analysts' estimates of earnings of 51 cents a share. Shares were down 2% in afterhours trading, however.
Currencies and commodities: The dollar lost ground against the euro, the Japanese yen and the British pound.
Oil for July delivery settled up 14 cents to $93.40 a barrel.
The recent decline in oil prices will provide an additional and needed boost to the U.S. economy once those lower oil prices are passed along to consumers, Cantor Fitzgerald's Pado said. He expects that to happen in a few weeks.
Gold futures for August delivery rose $4.40 to $1,546.40 an ounce.
Bonds: The price on the benchmark 10-year U.S. Treasury edged lower, pushing the yield up to 3% from 2.96% late Monday.