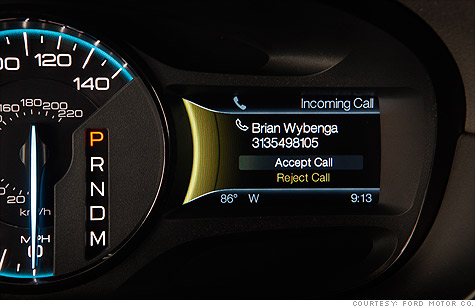 Problems with Ford's MyFord Touch interactive system have caused customer complaints and helped drive down Ford's ranking in the J.D. Power Initial Quality survey.
NEW YORK (CNNMoney) -- Ford tumbled from a fifth place ranking in last year's J.D. Power Initial Quality ranking all the way down to 23rd this year.
Ford Motor Co.'s (F, Fortune 500) luxury brand, Lincoln, dropped, too, but not quite as far. Lincoln dropped from 8th place in the survey last year to 17th this year.
The annual J.D. Power Initial Quality survey measures not just how often things go wrong or break but also how well owners like various aspects of their new vehicles. In other words, even if a certain feature of a car works as it was designed to, automakers are penalized if owners complained about it, anyway.
Much of Ford's trouble has to do with the latest version of its Sync entertainment and phone system, said David Sargent, vice president of global vehicle research at J.D. Power. The latest version of Sync is incorporated into a complex new interface called MyFord Touch.
"People were finding several problems with the system in that it would crash, freeze, black out," said Sargent. "Beyond that, people complained that it was more complex to use than they would like."
Consumer Reports magazine has declined to recommend several new Ford SUVs over concerns that the system is too confusing and doesn't work well.
"There is an understandable desire to bring these technologies to market quickly," said Sargent, "but automakers must be careful to walk before they run."
Ford has said that it is working to fix the bugs in the MyFord Touch Sync system created in partnership with Microsoft (MSFT, Fortune 500) and a number of other technology companies, and that it has asked dealers to provide thorough training on the system for new owners.
Not all the news was bad for Ford, though. Two Ford models -- the Taurus full-sized car and the F-150 pick-up -- earned the top rank in their market segments despite the brand's poor overall performance.
New models score lower: For the first time since 2007 newly introduced models from all automakers scored lower, on average, on the Initial Quality survey than last year's round of new models. Last year 17 all-new or redesigned models ranked at the top of their respective segments. This year, only seven did.
Problems with new technology was one cause of trouble for new models, another was unsatisfactory engines and transmissions.
To meet demands for greater fuel economy, automakers have tuned software that controls engines and transmissions for greater efficiency at the expense of the performance consumers are used to, J.D. Power said. As a result, engines can be less responsive and and transmissions can be slower to downshift. That can lead to complaints that hurt scores on the survey.
When both new and so-called carryover models, cars and trucks that were largely unchanged from last year, are included, initial quality has continued to improve, according to the survey.
Toyota's (TM) Lexus luxury brand was the top-ranked brand in this year's Initial Quality survey, improving from fourth last year. Second ranked was Honda (HMC), followed by Honda's Acura luxury brand and Mercedes-Benz.
General Motors' (GM, Fortune 500) best ranked brands were Cadillac and GMC which ranked 9th and 10th in the survey.
The bottom-ranked brand was Chrysler Group's Dodge. Suzuki and Mitsubishi scored slightly better.
Brands are ranked according to problems per 100 vehicles.