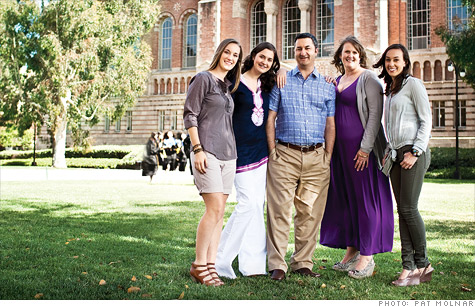 Wade and Julie Scheckla, of Tracy, Calif., oldest daughter, Paige, 19, heading into her junior year at the University of California at Los Angeles, with 17-year-old Brett and 14-year-old Kennedy.
(Money Magazine) -- As far as raising teenagers goes, Wade and Julie Scheckla can't complain. The California couple's oldest daughter, Paige, 19, is an honors student heading into her junior year at the University of California at Los Angeles, while 17-year-old Brett and 14-year-old Kennedy are straight-A students and standout athletes.
With high-achieving kids, however, comes a college-funding triple threat: Two years down and seven more to go, with at least three years of tuition-bill overlap.
The tab, all payable within a decade, could easily exceed $300,000.
Heeding the conventional wisdom to make their own future the priority, "we took the path of saving for retirement and not saving for college," says Wade, a program manager for a division of eBay.
To that end, they've amassed more than $315,000 in retirement accounts, plus another $80,000 in eBay stock, which they can buy at a 15% discount through the employee stock purchase plan (ESPP).
Yet with Wade earning $135,000 a year plus a bonus, the family isn't counting on financial aid.
"Our goal is to survive the next seven years without going into debt," says Wade, "and we absolutely don't want our girls saddled with tons of debt either."
So far they've covered Paige's $24,000-a-year college bill with Wade's annual bonus and the sale of eBay stock.
Those costs will be cut in half next year when Paige earns free room and board in exchange for working as a resident assistant.
But that's only a temporary reprieve.
Brett hits campus in the fall of 2012, and a more costly private college on the East Coast is one of the many schools she's considering.
THE ADVICE
A big college bill isn't the Schecklas' only problem -- with only $6,000 in the bank, the family has far too little in emergency savings.
"We use my company shares as a backstop," says Wade.
Don't. "You absolutely cannot use stock as a primary resource for emergencies," warns San Mateo, Calif., financial planner Barbara Steinmetz. This is especially true when that stock is tied to the family's only source of income. (Julie, a former administrative assistant, has been out of the workforce for five years but plans to return soon.)
Shore up the emergency fund. The Schecklas need to cash in some eBay shares pronto. Selling half of the shares that qualify for long-term capital gains now should yield $17,000 after taxes. Stash that in a money-market fund, and aim to have six months of expenses, or $30,000, set aside.
Be cautious for college. Between Wade's anticipated bonuses, stock options, and the rest of their eBay shares, they may be able to cover all their college bills without borrowing. But keeping the money they'll need within the next few years in eBay shares makes an already risky strategy even riskier.
"The money for college needs to be invested far more conservatively," says Lafayette, Calif., financial planner Peggy Cabaniss. As more shares become eligible for long-term capital gains, sell them and earmark the proceeds for college. What's more, this plan shouldn't stop them from applying for aid, says Cabaniss; with two kids in school, they may qualify.
Fund 529 plans. With the money they raise from selling eBay shares, the Schecklas should open 529 state college savings plans for Brett and Kennedy.
California doesn't let residents deduct 529 contributions, but not having to pay federal taxes on the earnings makes the plans worthwhile. Shop nationally for a plan with ultralow expenses, such as those in Ohio, Alaska, or Utah. For more information, go to savingforcollege.com.
Set a limit. The Schecklas should keep buying eBay stock at a 15% discount. "On paper it's an immediate profit," says Steinmetz. "But the only way this money really becomes yours is if you liquidate."
Systematically sell shares, with the goal of keeping the eBay stake, recently a risky 20% of investments, to less than 10%.
"We always knew we had way too much eBay stock but were scared of having to pay taxes," says Wade. "Selling on a regular basis will become the norm going forward."