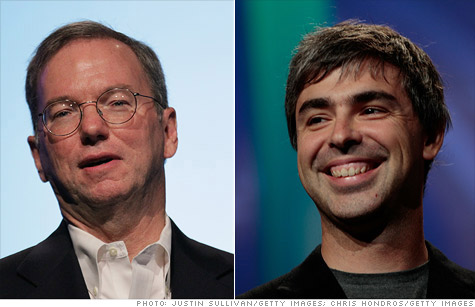 Google Chairman Eric Schmidt (left) and CEO Larry Page may be hit with subpoenas in an antitrust investigation.
NEW YORK (CNNMoney) -- The government's antitrust watchdogs and policymakers have Google in their crosshairs.
The search giant's top brass -- CEO Larry Page and Chairman Eric Schmidt -- are being accused of ducking a Senate subcommittee hearing that will probe the company's market dominance. The subcommittee's chairman is threatening to compel their attendance with a subpoena.
Meanwhile, the Wall Street Journal reported Thursday that the Federal Trade Commission is preparing to serve the company subpoenas in a wide-ranging antitrust probe. The FTC is examining whether whether Google has abused its dominance on the Web, an issue European regulators are also investigating (prodded along by Microsoft (MSFT, Fortune 500), which is no stranger to legal grillings).
The Senate's antitrust subcommittee wants to hold a hearing within the next few weeks on "competition issues pertaining to Internet search" -- and it wants Page of Schmidt to testify. In a letter sent to the two executives earlier this month, the subcommittee's leadership expressed their displeasure with Google's suggestion that Chief Legal Officer David Drummond appear instead.
"A hearing on this important topic would be incomplete without the direct perspective and views from one of Google's top two executives," wrote Subcommittee Chairman Herb Kohl, a Democrat from Wisconsin, and Ranking Member Michael Lee, a Utah Republican. "We would very much prefer to work this out by agreement rather than needing to resort to more formal procedures."
A Google (GOOG, Fortune 500) spokeswoman said the company is in talks with the subcommittee about the witness issue.
"We will send the executives that will best answer the subcommittee's questions," she said. "We believe Dave Drummond really is the best fit for what they want."
Drummond has worked with Google since 1998, when he served as outside counsel and helped co-founders Larry Page and Sergey Brin incorporate the company. He was hired internally in 2002 and now serves as senior vice president overseeing all of the company's legal affairs.
Since he took over as CEO in April, Larry Page has practically gone into hiding from public's view. The man he replaced, Eric Schmidt, has been positioned as Google's public ambassador.
Google dominates search in the United States, controlling about two-thirds of the market, according to comScore. It also licenses the world's largest smartphone operating system, and its share of U.S. display advertising revenue recently eclipsed long-time leader Yahoo (YHOO, Fortune 500), according to IDC.
As a result, the company has faced increased regulatory scrutiny. This year alone, a federal judge rejected Google's settlement to create a universal online book library, the Department of Justice heavily scrutinized the company's recent purchase of flight data software company ITA, and Google set aside $500 million for a potential settlement with the DOJ regarding the company's advertising practices. The DOJ is currently studying Google's proposed $400 million purchase of digital advertising toolmaker Admeld.
The company has faced more regulatory scrutiny outside this country as well, most notably from the European Union, which is currently investigating Google for possible antitrust violations.
In light of the government's ramped-up efforts to probe Google, the company has developed a strong Washington presence in the past few years.
It spent more than $7 million on lobbying in 2010, according to the Center for Responsive Politics. Google employs 30 staffers in Washington and turns to some of the biggest names in lobbying, including the Podesta Group, Dutko Worldwide and McBee Strategic Consulting, for outside help.