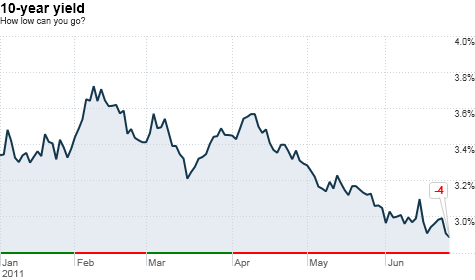 Click chart for more bonds data.
NEW YORK (CNNMoney) -- Treasury yields were on track to lose ground for a second straight day Friday as investors continued to seek the relative safety of U.S. debt.
After climbing for most of the week, the benchmark 10-year yield plummeted on Thursday from 2.99% to 2.91% by the close of trading. Even news of a tentative new bailout for Greece late in the day did little to ease demand for Treasuries.
On Friday, yields continued to drop despite some better than expected economic data. Slightly higher readings on gross domestic product and durable goods orders briefly pushed yields higher before the downward slide resumed, with the 10-year note dropping as low as 2.87%.
The 30-year yield increased to 4.20%, the 2-year yield declined to 0.35% and the 5-year yield dropped to 1.39%.
Bonds prices and yields move in opposite directions.
With the 10-year yield sitting at its lowest level this year, investors may have expected a rebound to result from even a shred of positive news. But according to Kim Rupert, a fixed income analyst at Action Economics, the fear factor is still too great.
"There is still just a lot of concern over contagion," Rupert said. "We haven't really made a lot of progress solving these fiscal issues. We are not out of the woods yet."
In Greece, parliament still has to pass austerity measures and appease rioters in the streets. Without that, the European Union might pull the plug on the bailout. And to underscore contagion fears, Moody's warned it was considering a credit downgrade for Italy's banks late Thursday.
"The recovery both in the U.S. and globally is still pretty pathetic," Rupert said. "So there are not ample reasons to be getting out of safe assets like Treasuries."
And Washington isn't helping matters. Negotiations to authorize more government borrowing fell apart this week, leaving investors to question whether politicians will meet the Aug. 2 deadline to raise the debt ceiling.
"We just keep putting off the inevitable," Rupert said. "There aren't many politicians who want to have their name tacked on it to."