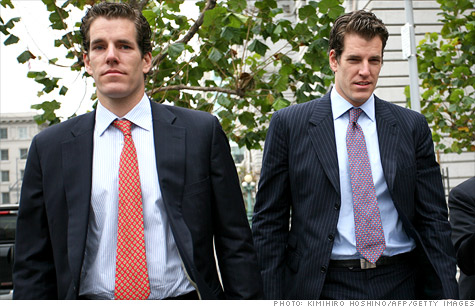 The Winklevoss twins have been mired in litigation with Facebook for seven years.
NEW YORK (CNNMoney) -- Several billion years from now, scientists predict that the universe may end in heat death. That looks like the only thing that will kill off the Winklevoss twins' legal crusade against Facebook.
Cameron and Tyler Winklevoss on Wednesday abandoned their plans to appeal to the Supreme Court for an unwinding of their 2008 settlement with Facebook CEO Mark Zuckerberg.
But the zombie litigation still won't die. On Thursday, the twins filed a motion in a Boston federal court on a separate case alleging that Facebook "intentionally or inadvertently suppressed evidence" -- namely, online instant messages that they say help prove their claims. That case, which started with a copyright infringement complaint, has been pending since 2007.
Neel Chatterjee, counsel for Facebook, said in an e-mail that "these are old and baseless allegations that have been considered and rejected previously by the courts."
The genesis of the dozens of court filings began in 2004, when the Winklevoss twins and a third Harvard classmate, Divya Narendra, filed suit against Facebook and Zuckerberg. The three alleged that Zuckerberg had stolen the idea for Facebook from them -- an idea dramatized last year in the Oscar-nominated movie "The Social Network."
Facebook promptly countersued the trio and their own social networking site, ConnectU, alleging that they had hacked into Facebook to steal data and spam users. The legal volley of claims and counterclaims went back and forth until 2008, when the Winklevosses and Narendra signed a settlement valued at $65 million, part in cash and part in Facebook stock.
But the trio later tried to pull out of the deal, alleging that Facebook had misrepresented the value of its stock. A judge ruled against them and forced the settlement to go through, but the Winklevosses and Narendra took the case to an appeals court.
In April, Judge Alex Kozinski, chief judge of the U.S. Court of Appeals for the Ninth Circuit in San Francisco, attempted to put the kibosh on the case. "At some point, litigation must come to an end," Kozinski wrote in his decision. "That point has now been reached." (Click here to read Kozinski's ruling.)
That was the ruling the Winklevosses were considering appealing to the Supreme Court, but they filed a motion dropping that plan on Wednesday.
The Winklevosses' attorney, Tyler Meade, declined to comment on the Thursday about the latest filing in Boston.
-- CNN's Marina Landis and Jason Kessler contributed reporting.