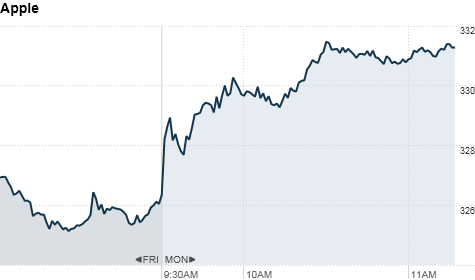 Click chart for more on Apple
NEW YORK (CNNMoney) -- Technology names were all the rage on StockTwits Monday, with tweets focusing on Apple, Amazon, Sina and Baidu.
Apple (AAPL, Fortune 500) shares rose more than 1%, after touching a new low for the year last week. The bounce came amid reports that Apple will release two new versions of the iPhone in September and after a Morgan Stanley analyst issued a 'buy' recommendation on the stock.
A separate report from Morgan Stanley lifted Amazon (AMZN, Fortune 500)'s shares 3%. Morgan Stanley boosted its price target on Amazon to $245 from $225, and added the stock to its Best Ideas List.
Chinese websites were also abuzz.
Sina Corp. (SINA) shares were up 6% following a Wall Street Journal report saying the company's Sina Weibo is already China's version of Twitter, and now it wants to be a Chinese Facebook too.
China's search giant Baidu (BIDU) was also a hot topic, with shares rising almost 3%.
All of that is giving StockTwits users plenty to tweet about:
ericjackson: That $AAPL 4gs phone news is huge for China (prepaid market).
triplexx: $AAPL could this be the real McCoy for a change?
Sangluccitrades: $AMZN is strongoooo, setting up for all time highs or a big crash?
investingnstuff: Internet censorship in China is not a big obstacle as people think. There are loopholes. $SINA #FACEBOOK
raoul_duke: $BIDU BUY BUY BUY...$SINA...BUY BUY BUY...china plays about to explode to upside...when tightening is done..watch out!!!buy baby buy!!!
patfarlow: $BIDU 100 day and 50 merging here, would like to see these broken before i go long #WORDEN