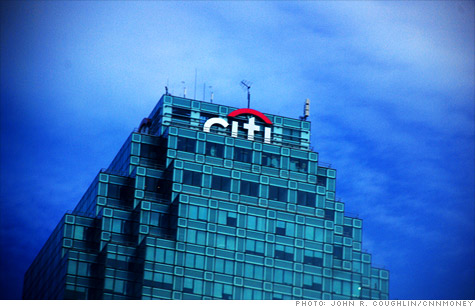 Citigroup notified law enforcement officials after discovering suspicious transactions by a former employee, Gary Foster.
NEW YORK (CNNMoney) -- Gary Foster, a former Citigroup executive, was arrested Monday on charges he embezzled more than $19 million from the bank.
According to a criminal complaint unsealed in New York, Foster allegedly transferred millions of dollars from various Citigroup accounts into his personal account at JPMorgan Chase on eight separate occasions between May 2009 and December 2010.
Foster, 35, is also accused of using fraudulent contracts and deal numbers to mask the transfers.
The former vice president of Citigroup's Treasury finance department was arrested at John F. Kennedy International Airport on Sunday morning when he arrived on a flight from Bangkok.
The charges were announced by the U.S. Attorney's office and the Federal Bureau of Investigation.
"The defendant allegedly used his knowledge of bank operations to commit the ultimate inside job," said Loretta Lynch, the U.S. Attorney for the Eastern District of New York.
In a statement, Lynch expressed her appreciation to Citigroup (C, Fortune 500), which brought Foster's alleged fraud to the attention of the FBI and the U.S. Attorney's Office.
"We are outraged by the actions of this former employee," said Shannon Bell, a Citigroup spokeswoman.
Citigroup informed law enforcement officials immediately after discovering suspicious transactions, she said, adding that the bank is fully cooperating with the prosecution "to ensure Mr. Foster is prosecuted to the full extent of the law."
According to the complaint, Foster transferred money from internal Citigroup accounts including its interest expense account and debt adjustment accounts, to the bank's cash account. From there, he allegedly wired the money to his personal account at Chase, according to prosecutors.
Foster is expected to appear in court later Monday in Brooklyn, N.Y. He plans to plead not guilty, according to his lawyer, Isabelle Kirshner of Clayman & Rosenberg.
Kirshner said she had just received the complaint and was reviewing the charges.
"These are serious charges and we will investigate them fully," she said.
If convicted, Foster could face up to 30 years in prison.