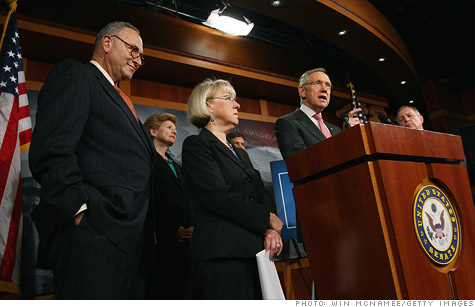 Senate Democrats are talking economic stimulus again.
NEW YORK (CNNMoney) -- You are about to enter a stimulus free zone.
Recovery Act money has dried up. The Fed's bond buying program will end this month. Economic growth remains anemic, and there are signs of further slowing.
What's a government to do? After all, the U.S. spent trillions of dollars in the wake of the financial crisis to put its thumb in the dike and get the economy back on track.
Enter Senate Democrats. Harry Reid and company are starting to talk about a basket of measures they say will stimulate the economy: a payroll tax cut, a tax holiday for corporate profits held overseas and infrastructure and green energy investments.
Payroll tax holiday: Thanks to the tax deal struck in late 2010, workers are enjoying bigger paychecks this year.
Employees normally pay 6.2% on their first $106,800 of wages into Social Security, but they are now paying only 4.2%.
That tax break is set to expire at the end of the year, and Democrats would like to extend it. The White House has even floated the idea of extending the measure to employers. Republicans have been cool to the idea so far.
Tax holiday for corporate profits: American corporations currently have a boatload of cash stashed overseas in order to avoid paying the sky-high 35% corporate tax rate.
These companies -- Exxon (XOM, Fortune 500) and GE (GE, Fortune 500) chief among them -- are very good at keeping their tax rates low, but the result is more than $1 trillion parked in foreign accounts.
If lawmakers were to pass a so-called repatriation holiday, corporations would be allowed to bring that cash back to the United States while paying a reduced tax rate. In theory, corporations might choose to hire more workers with that money.
The United States already tried this out in 2004, but most of the money was used to reward shareholders, and not hire workers, according to a subsequent study.
Normally, this policy is not super-appealing to Democrats, but Sen. Chuck Schumer has been lobbying colleagues with a modified plan that ties repatriation to infrastructure investment.
Infrastructure investments: Democrats, and Obama in particular, love talking about investments in infrastructure. And they think they might be able to get Republicans to agree to start a national "infrastructure bank."
Here's how it would work: After an initial round of funding, the bank would offer loans to give private-sector projects a needed jolt of money. Eventually, interest paid on the loans would make the bank self sufficient.
Now, Schumer thinks he has found a way to get the bank off the ground. He wants to grant corporations their repatriation holiday and use the tax receipts as seed money for the bank.
Wait! There is a catch: Republicans aren't super excited about any of these ideas, and they control the House. And while Democrats want to include some of these stimulus measures in a deal to raise the debt ceiling, that seems to be a non-starter.
"This isn't just mystifying, it's absolutely farcical," Mitch McConnell, the Senate's top Republican, said on Thursday. "I mean, most Americans had to wonder if they were dreaming this morning when they saw this headline: 'Democrats call for new spending in U.S. debt deal.' "