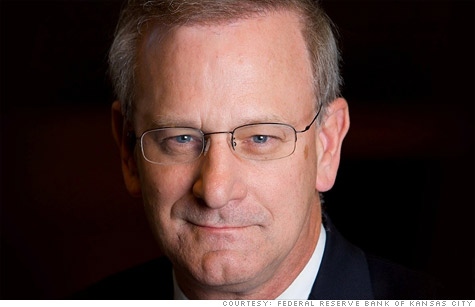 Kansas City Fed president Thomas Hoenig says Wall Street would be better reformed with a return to the barriers between banks that take deposits and those that handle investments.
WASHINGTON (CNNMoney) -- The outgoing chief of the Federal Reserve Bank of Kansas City said Monday that the new Wall Street reform law doesn't do as much to keep big banks from threatening the financial system as a New Deal law repealed a decade ago.
Thomas Hoenig, speaking at a forum in Washington, said he wants a return to the days when commercial banks that took deposits were barred from making investment trades. The so-called Glass-Steagall law was repealed in 1999, after more than 60 years of walling off commercial banks from investment banks.
Hoenig said new reforms fail "to employ one remedy used in the past to assure a more stable financial system -- simplification of our financial structure through Glass-Steagall-type boundaries," at the forum sponsored by the Pew Financial Reform Project and New York University Stern School of Business.
Some, including Hoenig, blame the financial crisis in 2008 on the demise of that wall, which encouraged giant commercial banks to make big and bad investment gambles, causing them to teeter on the edge of failure and requiring taxpayer bailouts.
Hoenig, one of the more outspoken Fed regional chiefs, said bringing back the separation would help stabilize and shore up the financial system, which now lacks too many smaller community banks..
"We have a far more concentrated and less competitive banking system," said Hoenig, retiring from the Kansas City Fed as of Oct. 1. "There are fewer banks operating across the country, and the five largest institutions control more than half of the industry's assets, equal to almost 60% of GDP."
In last year's Wall Street reforms, Congress gave a nod to Glass-Steagall by allowing regulators to create a "Volcker rule," which would allow regulators to ban banks from making trades on their own accounts or proprietary trading. It's not as tough as the old Glass-Steagall law and may continue to allow banks to make some trades in some cases.
But Hoenig says the Volcker rule is "being gamed to death."
Indeed, many banks are pressuring regulators to narrowly define that rule and to allow them flexibility to make some investment trades.
Hoenig is known for being the Fed's lone dissenter last year, opposing the historically low interest rates at all eight Federal Open Market Committee meetings in 2010.
He has recently opposed the Fed's controversial policy of stimulating the economy through $600 billion in Treasury purchases, known as quantitative easing, and called for a hike in interest rates.
In his outspokenness, Hoenig has often invoked the Fed's famous "punch bowl" line, referring to a need to raise interest rates as the economy improves and before inflation and asset bubbles take hold.