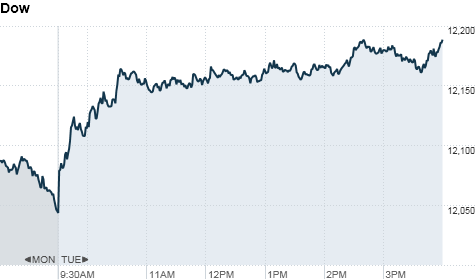 Click the chart for more market data.
NEW YORK (CNNMoney) -- U.S. stocks rallied on Tuesday, with the Dow jumping 145 points, as investors cheered a report showing home prices rose for the first time in nine months in April.
"The market was hungry for some good news, particularly on housing," said Fred Dickson, chief investment strategist with D.A. Davidson & Co. "After months of depressing housing data, today's report felt especially good."
The Dow Jones industrial average (INDU) added 145 points, or 1.2%, to close at 12,189; the S&P 500 (SPX) climbed 17 points, or 1.3%, to 1,297; and the Nasdaq Composite (COMP) was up 41 points, or 1.5%, to 2,729.
The S&P 500 was led higher by shares of Nike (NKE, Fortune 500), which jumped 10% a day after the athletic shoe maker posted better-than-expected profit and sales, citing strength in its Chinese and other overseas markets.
Top performers on the Dow included energy companies Exxon Mobil (XOM, Fortune 500) and Chevron (CVX, Fortune 500), as oil prices jumped more 2.5%. Other strong performers among the blue chips were Home Depot (HD, Fortune 500) and Caterpillar (CAT, Fortune 500).
The S&P Case-Shiller home price index, considered one of the leading gauges on the housing market, rose 0.7% in April.
Dickson said that while April Case-Shiller numbers were solid, he doesn't believe the report indicates a housing market bottom.
"The report could be a momentary blip," he said.
Investors continue to follow overseas developments amid ongoing protests in Greece Tuesday, as Greek Prime Minister George Papandreou pushes for deep spending cuts and tax increases.
Greek lawmakers began debating an austerity package Monday, which is needed to secure financial aid for the struggling country. Discussions continued Tuesday, with Greece's parliament set to vote Wednesday on a five-year budget plan.
"The wrangle over the next tranche of bailout funds is only a tiny step in Greece's journey to fiscal sustainability, and even if this vote is passed it will require years of austerity measures to get the finances back to a manageably high level," said Kathleen Brooks, research director with Forex.com in a note to investors.
In another facet of Europe's debt crisis, the credit agency Moody's warned it may have to downgrade Spain's regional banks. The agency said regional governments remain too optimistic in their economic forecasts and are likely to see bigger-than-anticipated deficits.
Although jitters about Greece's debt crisis and the health of the eurozone still remain, markets could be overshadowed temporarily by optimism about the upcoming earnings season.
Stocks started off the week with solid gains, as strength in the technology sector boosted all three major indexes.
Economy: The Conference Board's consumer confidence survey for June came in at 58.5, lower than the level of 60.8 that economists had expected.
Companies: Shares of GSV Capital (GSVC) fell 5%, a day after a 42% rally on its disclosure that it acquired 225,000 Facebook shares at $29.28 per share. The deal puts the value of Facebook, still privately held but expected to make an initial public offering, at about $70 billion.
Accenture's (ACN) stock rose 3% after the management consultancy was tapped to join the S&P 500. Accenture will replace Marshall & Ilsley (MI), which is in the process of being acquired by the Bank of Montreal (BMO).
Youku.com (YOKU) shares soared 30% after the company announced a video-on-demand service in coordination with Time Warner's (TWX, Fortune 500) Warner Bros. TimeWarner is the parent company of CNN and CNNMoney.
Shares of LinkedIn (LNKD) jumped 13% after analysts at several major investment banks, including Morgan Stanley and JPMorgan Chase, put the social media site on their "buy" lists.
World markets: European stocks closed solidly higher. Britain's FTSE 100 rose 0.8%, France's CAC 40 added 1.4% and the DAX in Germany ticked up 0.9%.
Asian markets ended with gains. The Shanghai Composite finished barely above breakeven, the Hang Seng in Hong Kong ticked up 0.1% and Japan's Nikkei added 0.7%.
Currencies and commodities: The dollar lost ground against the euro, British pound and the Japanese yen.
Oil for August delivery added $2.28 to $92.89 a barrel.
Gold futures for August delivery rose $3.80 to $1,500.20 an ounce.
Bonds: The price on the benchmark 10-year U.S. Treasury edged lower, pushing the yield up to 3.03% from 2.93% late Monday.