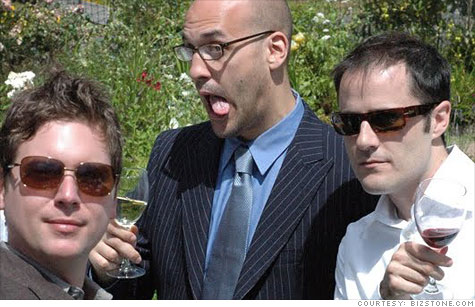 Twitter pioneers Biz Stone (left), Jason Goldman and Evan Williams are leaving to launch a new startup venture.
NEW YORK (CNNMoney) -- Three of Twitter's key developers-- Biz Stone, Evan Williams and Jason Goldman -- are launching a new venture.
"Our plan is to develop new projects and work on solving big problems aligned along a simple mission statement: The Obvious Corporation develops systems that help people work together to improve the world," Stone wrote Tuesday in a blog post announcing their plans.
The move is the latest musical-chairs shuffle at Twitter, which is undergoing a leadership overhaul as the five-year-old venture matures from a startup to a tech industry power player.
In October, COO Dick Costolo took over Evan Williams' role as the company's CEO, while Williams went off to focus on product development. But Williams soon after stepped back from day-to-day involvement at Twitter, while estranged co-founder Jack Dorsey -- now CEO of Square, another much-buzzed-about-startup -- returned to lead product development.
Stone was one of Twitter's most visible leaders, thanks to the personally written dispatches about Twitter's growth -- signed @biz -- that he sent out to users in the site's early days.
"The Twitter crew and its leadership team have grown incredibly productive," Stone wrote Tuesday in his blog post. "I've decided that the most effective use of my time is to get out of the way until I'm called upon to be of some specific use."
Together with Goldman -- a longtime collaborator with Stone and Williams who became one of Twitter's earliest employees -- the pair plans to focus their efforts on Obvious.
Goldman left his full-time position with Twitter in December, though he stayed involved as an advisor to the company. Williams also faded away from the company this year, though he emphasized that he will always play some role in Twitter's evolution.
"All three of us remain involved with Twitter and we are deeply invested in the company's long term success," the trio wrote on their Obvious.com website.
Obvious is actually a resurrection of a venture created in 2006. Williams created it to repurchase the assets of a failed venture of his, a podcasting site called Odeo. The Odeo crew had also cooked up Twitter.com as a side project -- and that's where their attention soon turned. Twitter later spun out from Obvious.
Obvious will be an umbrella for whatever new ventures its founders wish to pursue. The site, which went live Tuesday, lays out an ambitious vision: "In more than a decade of developing large scale systems on the Internet, we've never been more excited than right now."
But Williams also offered up a dry quip about the site's larval nature.
"Just (re)launched a new web site. It doesn't do much yet," he tweeted.