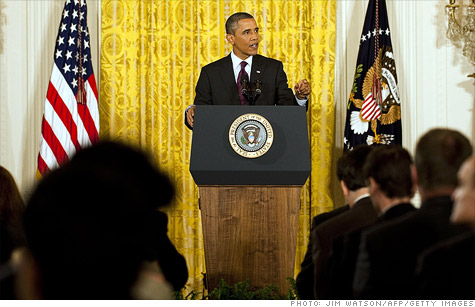 NEW YORK (CNNMoney) -- With the clock ticking down, President Obama told lawmakers in no uncertain terms Wednesday that he expects them to deliver a compromise deal to raise the debt ceiling.
"At a certain point," Obama said. "They need to do their job."
Lawmakers must raise the nation's $14.3 trillion legal borrowing limit soon. The Treasury Department says that on Aug. 2 it will run out of money to pay the nation's bills in full and on time.
That deadline is now just weeks away, and the Senate is scheduled to be in recess next week.
"This is urgent, and it needs to get settled," Obama said. If a deal has not been hammered out by the end of the week, he suggested lawmakers cancel their vacations. "You stay here. Let's get it done." (Read: Full CNN coverage)
Republicans have demanded that any deal to raise the debt ceiling include deep spending cuts, but they have been reluctant to consider measures favored by Democrats that would increase revenue.
Obama used the White House bully pulpit to push Republicans on the issue, saying he wants to close loopholes in the tax code and eliminate subsidies that favor the wealthy or large corporations.
"Everyone else has moved off their maximalist positions," Obama told journalists at a news conference. Republicans "need to do the same."
Obama said the group of lawmakers who participated in negotiations led by Vice President Joe Biden had already identified more than $1 trillion in budget cuts. Republicans want far more.
Those negotiations faltered last week after Republicans withdrew, citing Democratic proposals to raise revenue, or in other words, increase taxes. The measures would add hundreds of billions of dollars to federal coffers.
Republicans have said flatly the proposals won't fly.
"Throwing more tax revenue into the mix is simply not going to produce a desirable result, and it won't pass," Senate Minority Leader Mitch McConnell said on Sunday.
Obama has seldom addressed the need to raise the debt ceiling with the level of specificity on display Wednesday, a sign the issue now has the full attention of the White House after simmering for months.
"I've tried to be responsible and somewhat restrained so that folks don't get spooked," Obama said. "August 2 is a very important date."
Obama advocated for a balanced approach -- including cuts to defense spending and increased revenue.
"The good news is because of the work that has been done I think we can actually bridge our differences. I think there is a conceptual framework that would allow us to make huge progress on our debt and deficit," he said.
On Wednesday, McConnell said Republicans will not let taxpayers take the hit when it comes to reducing the debt.
"It's about drawing a line in the sand and saying, 'no, the taxpayers will not bail out politicians.' It's about refusing to subsidize the Democrats' irresponsible spending habits another day," he said.
While McConnell put the blame on Democrats, both parties are responsible for runaway spending. The debt ceiling, after all, has to be raised because Congress enacted laws that increased spending, or cut taxes, without finding an offset.
Obama, himself a member of Congress just a few years ago, made that point as he admonished lawmakers to negotiate in good faith.
"These are bills that Congress ran up," Obama said. "The money's been spent. The obligations have been made."
-- CNN's Tom Cohen and Alan Silverleib contributed to this report.