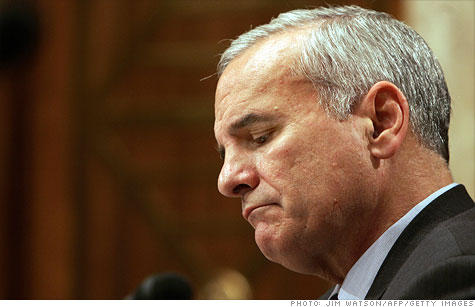 Minnesota Governor Mark Dayton continues to talk to Republican lawmakers to avoid a government shutdown.
NEW YORK (CNNMoney) -- Only a limited array of state services would continue in Minnesota if there is a government shutdown Friday, a judge ruled.
Ramsey County Chief Judge Kathleen Gearin decided Wednesday that the state must continue funding basic custodial care for residents in prisons, treatment centers and nursing homes, as well as public safety and immediate public health concerns.
Also, it must provide benefit payments and medical services, as well as maintain state aid to schools and municipalities. And the state will continue funding programs and services that are paid for by federal dollars, such as food stamps, Medicaid and Temporary Aid to Needy Families.
While many residents can breathe a sign of relief, others will have to suffer through a government shutdown that grows more likely by the hour. Though Governor Mark Dayton and Republican legislative leaders continue to meet, they have not reached an agreement on a budget for fiscal 2012, which starts Friday.
Without a last-minute deal, many state services will be suspended. Highway rest stops will close during the holiday weekend, as will the state zoo. Road construction projects will cease, as will licensing for teachers and businesses. Funding for services such as job training and homelessness support will be cut off.
And up to 23,000 state workers could be laid off, though they will continue to get health benefits and can return to their jobs when the budget impasse is resolved.
"A lot of people are going to be hurt by a shutdown," said Christina Wessel, deputy director of the Minnesota Budget Project. "A lot of key social services will not get funded."
Some social service agencies may be able to continue if they have reserves, but others will have to close their doors immediately.
Many groups petitioned the court to maintain their funding, but the judge kept the list brief.
For instance, child care centers that receive federal money will be paid, but those that depend only on state funds will not. This could leave low-income parents scrambling to find someone to watch their kids while they go to work.
"The court believes that the negative impact of a government shutdown on these programs does not justify a court in over-extending its authority," Gearin wrote in her decision.
Meanwhile, Dayton and Republican lawmakers spent Wednesday meeting to try to resolve their differences. At issue is whether to close a $3.6 billion budget shortfall by increasing taxes or cutting spending.
The governor, a Democrat who ran on a platform of taxing the rich, wants to hike the levy on the wealthiest 1.9% of Minnesotans, as well as cut spending. But the Republican lawmakers who wrested control of the Capitol from Democrats in November say they will not support a tax hike.
It is likely too late to pass a full budget before the end of Thursday, said Katharine Tinucci, a governor's spokeswoman. But, if an agreement is reached, the two sides can pass to a "lights on" bill that will fund operations for several more days until the budget bill can be drafted, passed and signed.
Minnesota has shut down just once before, and that was only partially. In 2005, the new fiscal year started without budgets in place for K-12 education, transportation and health and human services. All but essential activities stopped in these departments for eight days. Some 9,000 workers were furloughed.