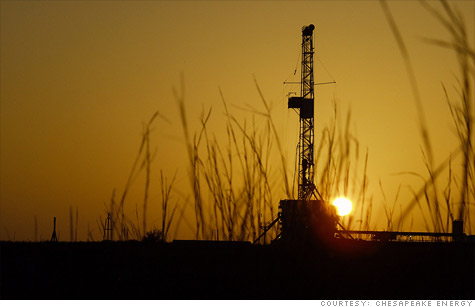 Energy companies, government fire back at recent New York Times piece suggesting shale natural gas boom may be vastly overstated.
NEW YORK (CNNMoney)  -- Big energy company executives and government researchers are firing back at a recent New York Times story suggesting the recent boom in natural gas production from shale rock is unsustainable and perhaps fraudulent.
"You really have to wonder why the New York Times is campaigning against cleaner-burning, domestically produced natural gas," ExxonMobil Vice President Ken Cohen wrote in a blogpost Monday. "If the writer had bothered to call us, we would have told him that ExxonMobil's investment approach is disciplined and based on a long-term view of global market conditions."
Exxon (XOM, Fortune 500), through its $41 billion purchase of XTO Energy last year, is now North America's largest shale gas producer.
A spokeswoman for the Times noted that Exxon was barely mentioned in the story, and that the article contained several quotes from others in the industry defending natural gas production rates.
The multi-part story, run in the Times Sunday and Monday, cited numerous, anonymous emails from government staffers, industry consultants and energy company executives questioning whether natural gas production from shale rock is really living up to the hype or is instead just another bubble.
The emails, which the Times posted online with the names redacted, say the wells may be running dry much faster than anticipated and could actually lose money.
The story suggests that the industry may be aware of this, and could be concealing it to boost their stock price. Emails quoted in the piece refer to the shale gas companies as "Ponzi schemes" and say they are having an "Enron moment."
The story further accuses the government's Energy Information Administration of relying too heavily on industry data to make its projections. Many of the emails the paper cites are from EIA staffers.
Monday night EIA struck back, issuing a rare statement, saying the agency's views on shale gas were "different in significant respects from those outlined in the June 27 article."
EIA posted the letter it sent to the Times in response to questions from the paper online, noting that shale gas production has risen from 4% of all U.S. gas production to 23% in just 5 years.
"It is clear the data shows that shale gas has become a significant source of domestic natural gas supply," Michael Schaal, EIA's director of petroleum, natural gas and biofuels analysis, wrote in the letter.
A letter from the chief executive of Chesapeake Energy (CHK, Fortune 500), another big shale gas company, took a similar tone.
"It is absurd to conclude that shale gas wells are underperforming while America is awash in natural gas," said CEO Aubrey McClendon. "The Times story was obviously motivated by an anti-natural gas agenda."
The letter goes on to say that the company's production numbers and estimates are verified by various third-party organizations, and any recent production declines are more the result of low natural gas prices.
Shale gas production has taken off in the last few years as new technology has allowed the industry to unlock vast quantities of the domestic fuel. Some say the country now has 100 years worth of natural gas.
When used to generate electricity, natural gas burns about twice as cleanly as coal.
The boom has caused a surge in investment, both in the towns where it's located and in the stock price of the companies that produce it.
But it's not without controversy. To produce the gas, the shale rock needs to be cracked by a process called hydraulic fracturing. Known as "fracking" for short, it involves injecting vast amounts of water, sand and some chemicals deep into the ground.
There have been spills of this fracking fluid before it's injected into wells which have contaminated local streams. There are also concerns about the disposal of the fluid and other tainted water that comes up with the gas, as well as fears that the natural gas itself may be seeping into drinking water wells as a result of the drilling process.
Many are calling for tighter regulations on the industry, and the Environmental Protection Agency is studying the procedure.
This idea that a combination of tighter regulations and questionable production numbers is making shale gas unprofitable may not be as absurd as the industry says it is.
One hedge fund manager in New York City recently told CNNMoney he is betting against shale gas companies for this very reason.