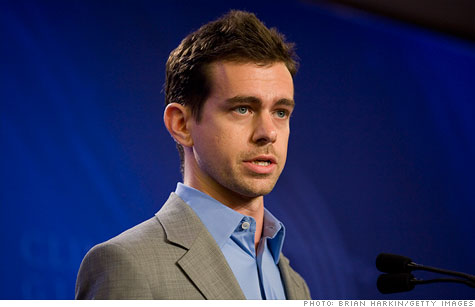 Square CEO Jack Dorsey
NEW YORK (CNNMoney) -- Payment startup Square just landed a massive cash infusion: The company raised $100 million in a financing round led by Kleiner Perkins Caufield & Byers.
Square is the high-profile second venture of Twitter co-founder Jack Dorsey, who created the company in 2009 and serves as its CEO. Dorsey works two jobs right now, commuting several blocks between Square and Twitter, where he guides product development. Square used Twitter to announce its funding round early Wednesday.
The latest funding values the company at $1 billion, according to the Wall Street Journal. It takes the total venture capital investment in the company to at least $140 million, including a "strategic investment" from Visa (V, Fortune 500).
Dorsey also announced that Mary Meeker -- who was a star Wall Street Internet analyst before leaving to become a venture capitalist at Kleiner Perkins -- would join the company's board. Meeker joins economist Larry Summers and Vinod Khosla, founder of Khosla Ventures, who were also added to the board in June.
As the mobile payment space heats up, Square is up against giants like eBay's (EBAY, Fortune 500) PayPal and Google (GOOG, Fortune 500), which recently teamed up with MasterCard (MA, Fortune 500), Citigroup (C, Fortune 500), and Sprint (S, Fortune 500) to launch a new phone-based mobile payment system. It's also battling wireless carriers, several banking giants, and a host of startups looking to break into the scene. Meanwhile, investors are rushing in to grab a piece of the action.
Square recently debuted its newest feature: An iPad app aimed at replacing cash registers. The arrangement lets customers pay with their Android or iOS devices.
Dorsey says his goal is to continue to encourage everyone to accept mobile payments: "We are on course to accelerate our growth in a meaningful way," he said.