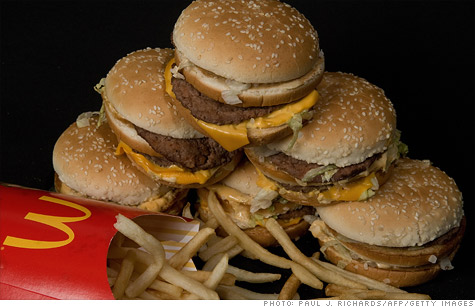 McDonald's loses its golden touch to In-N-Out Burger.
NEW YORK (CNNMoney) -- A new consumer survey has crowned In-N-Out Burger as the nation's fast food favorite, while giving low marks to iconic chains such as McDonald's, Burger King and KFC.
The first-ever fast food survey from Consumer Reports, released Thursday, also gave low scores to the big name sandwich joints Arby's and Quiznos as well as pizza slingers like Domino's (DPZ) and Pizza Hut.
In-N-Out, with locations in five Western states, earned high scores for quality of food and service, as well as value and speed, according to Consumer Reports. In addition to those qualities, Chick-fil-A also drew praise for its polite staff.
Chipotle Mexican Grill (CMG) was the top franchise specializing in south of the border cuisine, earning high scores for food as well as "politeness of staff and speed of service."
But at the bottom end of the burrito scale was Yum Brands' (YUM, Fortune 500) Taco Bell, according to the survey.
The favorite pizza franchise was Papa Murphy's Take 'N' Pizza, with its "unconventional concept" of buying a ready-make pizza to bake at home, according to Consumer Reports. The chain scored high marks for food and "exceptional scores for value, staff politeness and speed of service."
The best sandwich shops were Jason's Deli and Firehouse Subs, according to the survey.
In a sign of the times, the nearly 37,000 fast food fans who participated in the survey were focused on value.
"Chains like McDonald's (MCD, Fortune 500) and Taco Bell boast supersized values, but consumers don't necessarily think they offer much bang for the buck," said Tod Marks, senior projects editor for Consumer Reports, in a press release.
He said that 54% of respondents "cited low prices as a reason for picking a particular fast food restaurant."
Lee Renz, chief restaurant officer for McDonald's USA, responded to the survey by saying that customer satisfaction is a "top priority" for his company.
"Through restaurant evaluations, customer and employee feedback and more, we are continually evaluating our performance against our high standards," said Renz. "Our internal and third party research shows that we have consistently improved in customer satisfaction over the past several years."
Domino's spokesman Tim McIntyre said his company launched a new pizza recipe last year, based on input from consumers, resulting in a 10% spike in same-store sales.
"Millions of new customers tried our pizza in 2010, and millions of them kept coming back for more, and continue to come back," he said. "That tells us we must be doing something right."
Representatives of Yum Brands, parent of KFC and Pizza Hut as well as Taco Bell, were not immediately available for comment.