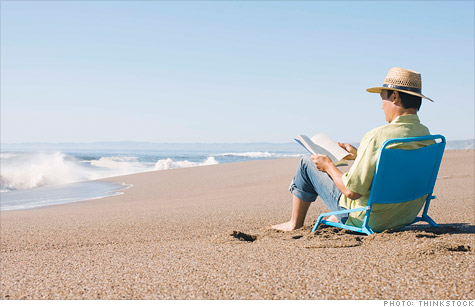 NEW YORK (Money) -- My two recent college-grad children have jobs, but they're novices when it comes to investing. Can you recommend a good book on investing I can give them? -- Steve F., Walker, Minn.
Since your kids are now getting a hands-on education about how to earn money, it's an opportune time for them to learn how to invest it.
It's also prime beach-reading season, the time of year when people like to sit back, enjoy the summer breeze and dive into a good book or, these days, an e-reader.
I'll admit that when it comes to page-turners, people are more likely to think Tom Clancy or Danielle Steel than some financial guru spouting off about investment theory and strategy. But investing books don't have to be boring.
Indeed, if you choose the right book, it can be simultaneously informative, entertaining, provocative -- maybe even fun. So what follows is my list of the Best Investing Beach Reads.
All are suitable for beginning investors, but I think many experienced investors could also profit by giving them a look.
"How a Second Grader Beats Wall Street"
Yes, I know your kids have been educated well beyond the second grade. But that shouldn't interfere with their ability to understand the basic yet valuable investing insights financial planner Allan Roth imparts in this book.
The main takeaways: the core principles to investing are actually pretty simple; and, the more complicated the strategies get, the more likely they'll backfire. If your kids end up doing nothing more than emulating Roth's Second Grader Portfolio, they'll be off to a great start.
"The Little Book of Common Sense Investing"
Critics of Vanguard founder John C. "Jack" Bogle sometimes derisively refer to him as a one-trick pony because, for almost 40 years, he's single-mindedly championed the benefits of index investing.
But they've got the wrong animal. Bogle is really more of a hedgehog in the sense that the ancient Greek poet Archilochus used the term when he said, "The fox knows many little things, but the hedgehog knows one big thing."
The one big thing that Bogle knows -- and explains so well in this slender volume -- is that buying and holding a broad benchmark of stocks while keeping fees to a minimum leads to higher long-term returns than constantly trading in a vain attempt to beat the market.
Common sense? Yes. But radical too, as the entire investing establishment is designed to get investors to do the exact opposite. For a taste of what they'll find if they read this book, check out my interview with Bogle from earlier this year.
"The Only Investment Guide You'll Ever Need"
When financial writer Andrew Tobias first published this brashly titled book in 1978, IRAs were still in their infancy, 401(k)s had yet to get rolling and online brokerage firms didn't exist.
So how can such a book still be relevant today? Two reasons: one is that the 2011 edition has been updated to account for such newfangled resources as the Internet.
But the far more important reason is that the approach Tobias espoused back when there were only 500 mutual funds and "Dallas" was a hit TV show applies all the more when Twitter, Facebook, "Jersey Shore" and 9,000 or so mutual funds and ETFs compete for your attention.
His approach: Rein in spending so you actually have some dough left to invest and then build a broadly diversified low-cost, low-transaction portfolio so that you don't hand over too much of your investment gains to brokers and money managers.
No surprise, then, that Tobias was MONEY readers' top pick for the Visionaries interview in MONEY's Annual Readers' Choice issue.
"Extraordinary Popular Delusions and The Madness of Crowds"
Sometimes the best offense is good defense. And, in the investing world, that means not getting up caught up in the irrational exuberance, mass euphoria and magical thinking that too often leads investors to blow their hard-earned money on massively overpriced investments.
Lest anyone think that the '90s dot-com and mid-2000s real estate crazes were one-of-a-kind aberrations, reading 19th-century Scottish journalist Charles Mackay's accounts of such investment fiascos as the tulip mania in 1630's Holland and the South Sea Company bubble in 1720's England should provide ample proof that investors have always been eager to jump onto investing fads.
More importantly, this book might prevent your kids from being one of the lemmings running off a cliff in pursuit of fantasy-world gains in the future.
So if you're looking to impart some investing knowledge to your kids -- as opposed to the usual "buy this stock-sell this one" tip that too often passes for investing wisdom these days -- you could do a lot worse than these books. And before you present them to your children, consider giving them a test read yourself.
After all, what's the harm in picking up some investing insights while you're enjoying a little beach time?