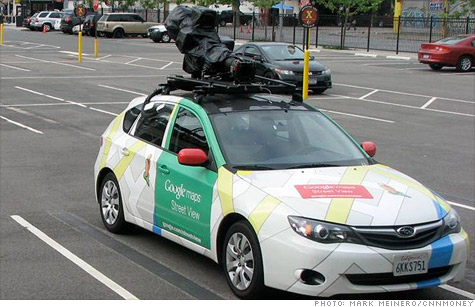 Google uses a specially equipped vehicle to create its Street View map feature.
NEW YORK (CNNMoney) -- A federal judge has denied Google's request to dismiss several lawsuits accusing the company of illegally collecting private information from open Wi-Fi networks.
The ruling, filed in California court Wednesday, is a setback for Google as it tries to put its "Street View" debacle behind it.
In May 2010, Google admitted that the cars it uses to capture images for the "Street View" map feature accidentally collected about 600 gigabytes of data from unencrypted Wi-Fi networks in more than 30 countries.
Google, based in Mountain View, Calif., apologized in a blog post and called the data collection "a mistake." Google also said that it never used the data and would work to dispose of it as quickly as possible.
But several lawsuits hit a few months later, accusing Google (GOOG, Fortune 500) of violations of state and federal wiretap laws. The complaints have been consolidated into one case seeking class-action status.
In Google's motion to dismiss, the company maintained that the data collection wasn't illegal because open Wi-Fi networks are "readily accessible to the general public."
Judge James Ware disagreed, writing that "presumption of accessibility"
applies only to "traditional radio broadcast mediums and do not address any broader radio-based communications technology of the time."
But Ware did grant a dismissal of another charge. Google was also accused of violating the California Business and Professional Code, with the plaintiffs alleging they had suffered "injury" and "lost money or property" as a result of Google's unlawful business practices.
Ware said that the data doesn't count as "lost property." But the dismissal is without prejudice, meaning that the plaintiffs have to option to file the claim again with more facts to support their argument.
This isn't Google's only brush this year with the live wires of with data privacy. In April, two British researchers released an open source application that let Apple's (AAPL, Fortune 500) customers see the location data stored on their iPhones and 3G iPads. The "Locationgate" furor soon expanded to include Google (GOOG, Fortune 500) devices.