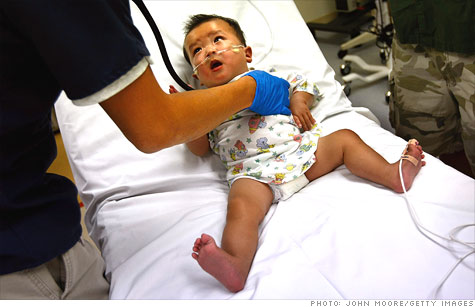 Wal-Mart is testing a unique collaboration in which its lawyers will offer legal support to Medicaid patients for free.
NEW YORK (CNNMoney) -- For the first time in its history, the nation's largest retailer Wal-Mart is providing free legal support for patients at the Arkansas Children's Hospital, many of whom are from low income families on Medicaid.
This type of arrangement means Wal-Mart's lawyers will be helping families as they struggle through Medicaid's bureaucracy. The lawyers will also help families' challenges with landlords and school boards in order to help sick children get access to programs, services and equipment that they have been denied.
This type of arrangement means Wal-Mart's lawyers will be taking on the government and other entities in order to help sick children get access to programs, services and equipment that they have been denied.
Wal-Mart's general counsel Jeff Gearhart said the company's in-house team of 142 lawyers will help patients with an array of issues associated with Medicaid, a jointly-funded Federal and state health insurance program that covers about 44 million low-income people, including children and special needs patients.
For the most part, he said the bulk of cases Wal-Mart's attorneys will work on can be resolved through due diligence, requiring a few hours of pro bono legal time.
Only rarely will any case proceed to litigation, he said.
For instance, tackling Medicaid's administrative and bureaucratic hurdles are on Wal-Mart's list
"Families on Medicaid are hit with a myriad of red tape when they're in the hospital," Gearhart said.
So Wal-Mart lawyers are being trained to help families navigate Medicaid in basic ways, such as filling out the right forms, and in more complex ways such as procuring insurance for expensive treatments and medical devices like specialized wheelchairs.
"We want to be clear that this collaboration is not adversarial to Medicaid. We want to be facilitative. This is an opportunity to do something impactful," he said.
The Centers for Medicare & Medicaid Services did not immediately respond to requests for comment.
Wal-Mart lawyers will help Medicaid families outside of the hospital, too.
For instance, Gearhart said lawyers may help families get access to special education for children, get utility services restored or negotiate with landlords over improving condition in an apartment that may be contributing to a child's medical condition such as asthma.
National rollout? Wal-Mart's "medical-legal partnership" with the Arkansas Children's Hospital, which kicked off this month, is a first for the discounter and a voluntary commitment for the company's lawyers.
It's also a first such collaboration between a large private corporation's legal department and a major hospital.
Dr. Megan Sandel, national director with the National Center for Medical-Legal Partnership, said Wal-Mart's foray into medical-legal partnerships (MLP) could set an important precedent.
"This is the first time that a big private corporation has made a concerted effort to encourage its lawyers to become involved in MLPs," Sandel said.
MLPs are partnerships between health care providers and lawyers that typically rely on attorneys donating their time to help low-income families who face legal problems related to basic needs such as health insurance, health care and housing.
According to the American Bar Association, MLPs currently serve patients in 200 hospitals and clinics across the country.
Given Wal-Mart's status and influence, Sandel said the retailer's involvement in MLPs can effect change.
"I don't think that is Wal-Mart's objective right now. But Wal-Mart could certainly help in highlighting problems in Medicaid that happen often and get people thinking about changing policy to prevent these legal issues form occurring," she said.
Kelly Scott-Flood, project director with the American Bar Association's Medical-Legal Partnerships Project, agreed.
"Generally speaking, MLPs across the county are involved in a range of advocacy projects, including assisting in changing public and private policies in a non-adversarial manner," she said.
"Wal-Mart's commitment to a medical-legal partnership [could] make it possible to expand critical free legal services to many more children and families," she said.
If the pilot project with the Arkansas Children's Hospital is successful, Wal-Mart's Gearhart said it could roll out nationwide in partnership with other hospitals, companies and law firms.
In the meantime, if Medicaid families from elsewhere in the country approach Wal-Mart for legal help, Gearhart said the retailer will find a way to help them.
"I don't think we'll turn someone away," he said
"The goal is to build a broader network," Gearhart said. "Wal-Mart could be a catalyst for this."