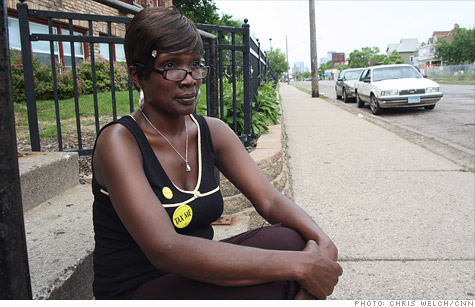 The Minnesota government shutdown means Cherise Payton can't turn to her caseworkers if there is a crisis in her family.
NEW YORK (CNNMoney) -- Minnesota residents are far from pleased about their state's government shutdown.
For some, it means no fun in sun during the warm holiday weekend since the state parks are closed. For others, it means no job since more than 20,000 state employees were laid off. And for still others, it means no safety net since caseworkers aren't answering their phones.
All but essential state government services ceased on Friday after Governor Mark Dayton and Republican lawmakers failed to resolve their budget dispute before the new fiscal year began. A $1.4 billion gap separates them.
The governor wants to close the shortfall, by raising taxes on the wealthiest 1.9% of Minnesotans. Republicans want to limit spending.
But it's Minnesotans like Virginia Becker who are feeling the impact. The Minnetonka resident won't be able to continue to her twice-weekly poker game at Canterbury Park race track. The shutdown means thousands of people are out of a job or out of luck if they wanted to go to the track during the busy holiday weekend, she said.
"It's a beautiful facility where thousands of people enjoy the short summer in Minnesota and now it's closed," Becker said. "It's the worst weekend it could have happened."
The state shutdown also ruined Becker's daughter's plans. She was supposed to camp in one of Minnesota's parks over the weekend, but will now stay home since the parks are all closed.
For Cherise Payton, the shutdown could have been much worse. The single mother who was recently homeless feared that she would not receive state aid to pay her rent. She learned Friday that she would get her check over the weekend, but she's still on edge because she cannot reach her state caseworkers.
"If a crisis comes up, who do I call?" said Payton, who lives in Duluth with her three teenagers.
Homeless prevention agencies are among those scrambling to continue providing for their clients. Simpson Housing Services will lose state funding for a variety of programs if a judge does not approve its appeal to be deemed essential.
Without the state grants, the Minneapolis agency will have to scale back the support services it provides its clients, said Julie Manworren, Simpson's executive director. Since they have to focus mainly on basic needs, the staff will not be able to assist clients with job searches and mental health issues. If the standoff continues into August, 12 families in transitional housing will find themselves back on the streets.
"Families who saw that they were turning the corner and ready to have stability are now thrust back into terror," Manworren said. "Everything they've been working for is about to crumble."
The shutdown shuttered many state agencies and non-profit organizations that cater to the needy, though some social service programs kept their funding.
A judge ordered Wednesday that the state continue to support programs that are paid for with federal dollars, as well as maintain benefit payments and medical services. Several non-profits appealed to the court to also be considered critical.
The Minnesota Zoo was set to reopen Sunday, after the judge ruled that it could use funds from admissions, parking, concessions, memberships and donations to operate.
Kay Kuppe, however, is not one of the fortunate ones. A state worker for 10 years, Kuppe joins her husband on the unemployment line. While she can apply for jobless benefits next week, Kuppe is concerned about how the couple will manage financially if the standoff continues for weeks.
The Fridley resident has stopped shopping and going to dinner and the movies. She halted her automatic mortgage payments and called her bank to inquire about deferring a few payments. She is also looking to apply to any city jobs in case the stalemate isn't resolved soon.
But most of all, Kuppe wants to return to her job as a business analyst in the Department of Human Services.
"Someone has to say uncle," she said, referring to the elected officials. 'How long can this go on?"
-- CNN's Chris Welch contributed to this report from Minnesota.