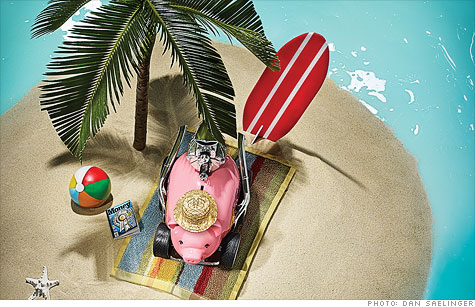 (Money Magazine) -- Airfare and lodging prices are set to rise by double digits in the next year. Get the most for your money.
Faster
Go all-inclusive. Packages that bundle airfare, hotel, transportation, and guides used to be the province of cookie-cutter chain resorts like Sandals. Since the recession, even high-end spots have begun offering them. Bonus: Packages can be hundreds of dollars cheaper than if you'd bought everything separately, says Anne Banas of SmarterTravel.com. Find them at pleasantholidays.com and go-today.com.
Time it takes: A half-hour if you have a destination in mind
How much it costs: Example: $1,900 for a five-night all-inclusive vacation for two in Dublin (flying from New York)
Cheaper
Forget the hotel. Frugal types already know which web sites to scour for low airfares (kayak.com, priceline.com), as well as money-saving strategies such as traveling in the off-season. But to slash the biggest chunk of the typical vacation budget -- the lodging -- rent an apartment or house. Because you'll have access to a kitchen, you'll also save on some meals.
Time it takes: A few hours.
How much it costs: See three price examples below.
Better
Call a top travel agent. For complicated trips such as a guided African safari, experienced agents can be worth every penny they charge. They'll recommend the most appropriate itineraries for your family, handle all the logistics, take measures to ensure your safety, and be available to fix any snafus such as canceled flights. Find an agent at concierge.com, which lists the best in the industry by specialty (adventure travel, family trips, and the like).
Time it takes: A couple of hours, all told.
How much it costs: A flat fee (on top of the cost of travel) of $400 to $800 to set up a complex vacation.