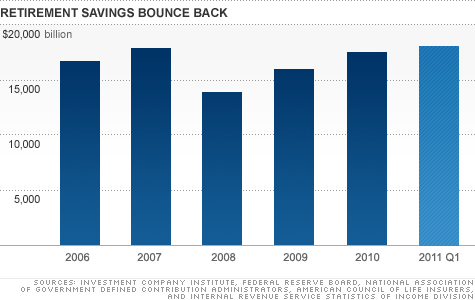 NEW YORK (CNNMoney) -- While the economic recovery remains sluggish, retirement funds are looking the healthiest they have in years.
Retirement assets rose to $18.1 trillion at the end of the first quarter, up 3% from the end of 2010, according to the Investment Company Institute. That's up nearly 10% from the same quarter a year ago, and just below the record high reached in the third quarter of 2007.
The increase in savings comes as Americans continue to earmark bigger portions of household income for retirement than they have in the past, with retirement savings accounting for 37% of all household financial assets at the end of the first quarter, the report said. Two decades ago, only 27% of household assets went toward retirement.
So does this mean the recent economic downfall has knocked some sense into Americans about saving for retirement?
"Many people have done three things you would think would be a rational response to a nest egg that has been hit by the stock market," said Sarah Holden, senior director of retirement and investor research at ICI. "They have worked a few extra years and delayed retirement, increased their savings and shifted to slightly more conservative investments."
According to a separate survey conducted by ICI at the end of last year, 58% of households made at least one of these three adjustments in reaction to the weak economy and volatile stock market, Holden said.
And while some investors shifted money to safer assets, like bonds, equities still dominated the retirement asset landscape. "With the exception of federal plans, there is [significant] investment in equities in almost every other plan," said Holden.
Even though this heavy reliance on the stock market crippled the life savings of many Americans in recent years, it has given retirement plans a significant boost in the past quarter.
"The S&P 500 returned about 5% in the first quarter, so we've seen growth in retirement assets because of these stock market returns," she said.
Assets held in individual retirement accounts (IRAs) and defined contribution plans climbed to all-time highs during the quarter. IRA holders boosted savings by 3.2%, with assets totaling $4.9 trillion, while defined contribution plan assets rose 3.6% to $4.7 trillion.
The increase in these plans came as more Americans chose to roll over their 401(k)s to IRAs, with rollovers and contributions continuing to outpace withdrawals, said Holden.
Government pension plans accounted for $4.5 trillion in assets in the quarter -- up 2.4% from the end of 2010. Private sector defined benefit plans held $2.3 trillion in assets, while annuities held $1.6 trillion.
Total assets invested in 401(k)s rose 4% to $3.2 trillion in the first quarter from $3.1 trillion at the end of 2010. In 2000, 401(k) assets were almost half the current level, totaling $1.7 trillion.
"There's been a lot of growth in the number of plans available, and we've seen features, such as automatic enrollment, expand," said Holden. "10 to 20 years ago, '401(k)' was not the household word it is today."
Do you have a job that people would be surprised to learn pays a salary of $100,000 or more? If so, email blake.ellis@turner.com for the chance to be included in an upcoming story on CNNMoney.com.