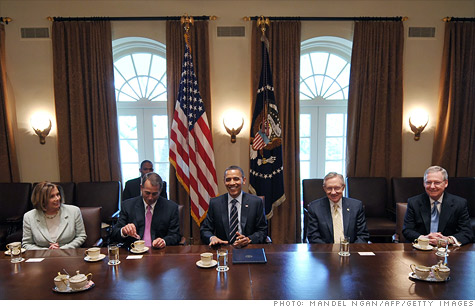 Deal or no deal?
NEW YORK (CNNMoney) -- Huge spending cuts, and maybe some targeted tax hikes.
That's how the deal to raise the debt ceiling is shaping up. Details are thin, as negotiations have been carried out behind closed doors and involve only a few of Washington's heaviest hitters.
This much is known: Lawmakers must raise the nation's $14.3 trillion legal borrowing limit soon. The Treasury Department says that on Aug. 2 it will run out of money to pay the nation's bills in full and on time.
That's only a few weeks away. So what's it gonna take?
The group of lawmakers who participated in negotiations led by Vice President Joe Biden have already identified more than $1 trillion in budget cuts.
Republicans want far more.
But already, $1 trillion in cuts is entering uncharted territory. The cuts would be some of the biggest in history.
"It sounds as if the package is going to be all spending cuts with a few symbolic revenue increases," said Isabel Sawhill, an economist who studies fiscal issues at the Brookings Institution and worked in the Clinton administration.
The $1 trillion in cuts would probably be spread out over the next decade or so, meaning roughly $100 billion less in federal spending each year, although the savings might be larger in later years.
Sawhill said the cuts are likely to be focused on non-security discretionary spending, a small section of the budget that includes funding for food inspectors, the FBI and education grants, among many other programs and services people associate with government.
"The public is going to be a lot more concerned when they see the details and not just the abstraction of less spending," Sawhill said.
That's something Obama clearly has on his mind as well. He made the point in a press conference this week.
"I've said to some of the Republican leaders, you go talk to your constituents, the Republican constituents, and ask them are they willing to compromise their kids' safety so that some corporate jet owner continues to get a tax break," Obama said. "And I'm pretty sure what the answer would be."
On the revenue side, the White House wants to close loopholes that benefit the owners of private jets, and raise taxes on hedge fund managers who pay lower tax rates on so-called "carried interest."
Additional proposals would change how business inventory is taxed, and eliminate government subsidies for oil and gas companies.
But not if Republicans have anything to say about it. The party's leaders have put up a united front on the issue. Tax hikes will not be considered, they say.
There is a common theme. The proposals spare the middle class and instead focus on corporations and the wealthy. The White House says they focus on "unnecessary" and "unjustifiable" tax breaks.
The revenue increases won't make much of a dent, at least not compared to $1 trillion in spending cuts.
Ending the tax break for owners of private jets, for instance, would only save a few billion dollars, hardly enough to fund the Food and Drug Administration.
"I understand the populist appeal," Sawhill said. "But those numbers are very small."
However, one additional proposal pushed by Democrats could add up to real money.
The White House wants to limit deductions taken by the wealthiest Americans. Depending on the details, that could quickly add up to increased revenue in the hundreds of billions.
Still, those tax increases will only touch a fraction of Americans, while the spending cuts will spread the pain around.
"Americans don't have a firm grasp on what it means to cut a trillion dollars," Sawhill said. "They think it's someone else's trillion dollars."