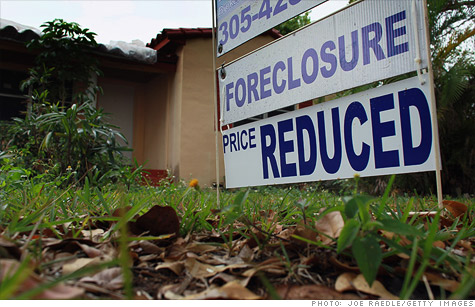 NEW YORK (CNNMoney) -- Housing prices are likely to keep falling the rest of this year, and probably won't show much improvement next year either, according to a survey of economists.
A CNNMoney exclusive survey of 27 economists showed the battered housing market is facing myriad problems and won't turn around anytime soon.
Of the 22 who had specific predictions for the closely watched Case-Shiller home price index, the median forecast was for a 3.9% decline in the second quarter compared to a year earlier, and a 2.9% drop in prices over the course of the full year.
Only three economists expect prices to rise this year.
The outlook for 2012 is only modestly better -- a 2% increase in home values, with six of the economists forecasting another drop in prices next year.
Economists are fairly evenly split on what it will take to turn the housing market around.
Nearly half were looking for a significant improvement in the labor market to boost housing, while the rest believe it will just take time to work through the inventory of foreclosed homes.
One economist, Kevin Giddis, head of fixed income at Morgan Keegan, said he believed it would take further significant declines in home prices in order to set a true bottom for the market.
Giddis is forecasting a 4% drop in prices this year.
Several others said all of those things need to occur before the housing market can show meaningful improvement.