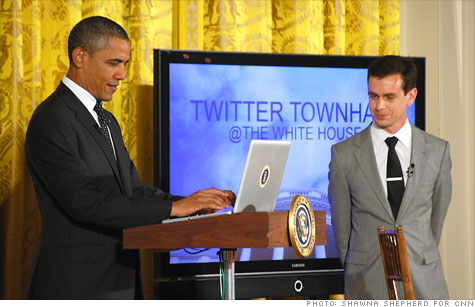 President Obama sends out a tweet to kick of his first-ever Twitter town hall Wednesday, alongside Twitter Co-founder Jack Dorsey.
NEW YORK (CNNMoney) -- "We the People" became more like "We the Tweeple" on Wednesday, as President Obama answered questions about the still-sluggish job market and broader economy in his first-ever Twitter town hall.
Sitting at the White House with Twitter Co-founder Jack Dorsey, Obama took questions from 18 Twitter users, or so-called tweeps, and responded via a live webcast online.
To kick off the event, he sent out a tweet about deficit reduction, perhaps the most pressing issue facing his administration and Congress right now.
"in order to reduce the deficit,what costs would you cut and what investments would you keep - bo," the President wrote.
For about an hour, Obama took questions about jobs, housing, student debt and deficit reduction.
Twitter user DrewHampshire asked Obama, "What mistakes have you made in handling this recession and what would you do differently?"
Obama responded by defending stimulus measures. "It was the right thing to do" to cut taxes for the middle class, give assistance to the states, rebuild infrastructure and bail out the auto sector, he said.
But Obama also said that if he had a do-over, he would have also enacted better housing programs and explained more clearly to the public that the recovery would take a long time.
"I think people might not have been prepared for how long this was gonna take ... I take responsibility for that."
Citing statistics from the Labor Department, Obama also defended himself against Republican claims that his policies have weakened the job market.
According to those statistics, half of the 8.8 million jobs lost in the recession were gone before Obama even took office. And since October 2010, 1.8 million jobs have come back.
The Obama administration claims that without its $772 billion Recovery Act signed in 2009, at least another 2.4 million jobs would have been lost in the aftermath of the recession.
Republicans are on the defensive this week, fiercely questioning those figures.
On CNN's "American Morning" Wednesday, presidential hopeful Rick Santorum said stimulus actually cost the U.S. jobs.

And leading up to the Twitter town hall, Speaker of the House John Boehner launched his own Twitter feed, showcasing opposition comments from other prominent Republicans.
"After embarking on a record spending binge that's left us deeper in debt, where are the jobs?" he tweeted.
Responding directly to Boehner's tweet, Obama admitted the job market hasn't been as strong as he originally hoped, but chided Republicans for opposing some of the stimulus measures he says helped job growth.
"Eventually, I'm sure the Speaker will see the light," he said.
About 140 people sat in the live audience in the White House's East Room, representing the 140 characters allowed in a tweet.
Twitter selected eight "seasoned users" to vet the questions, both in advance and in real time, during the event.
"Neither the President, nor I know the questions that will be asked today," Dorsey said, prior to the event.
The Twitter town hall follows a similar Facebook town hall Obama hosted in April.
About an hour after the event wrapped up, it had garnered more than 169,000 tweets, a Twitter spokeswoman said.
-- For more tweets on the economy, follow CNNMoney reporter Annalyn Censky on Twitter @anncensky.