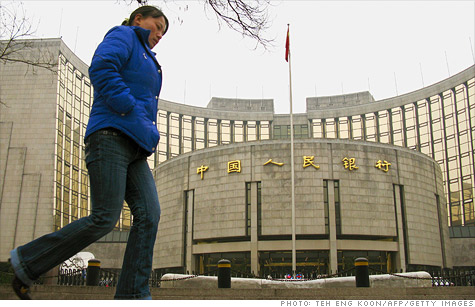 The People's Bank of China is once again raising its interest rate benchmarks in an effort to curb inflation.
NEW YORK (CNNMoney) -- China's central bank announced Wednesday that it has raised its benchmark interest rates by a quarter percentage point.
It's China's third interest rate hike this year and the fifth since last October as the world's most populous nation and fastest-growing economy attempts to keep inflation in check.
The People's Bank of China's annual interest rate on deposits stands at 3.5%, while the annual rate on loans climbs to 6.56%.
The bank has risen interest rates five times since October and hiked the amount of reserves that it requires banks to hold.
China raises the interest rates incrementally in an ongoing effort to tame inflation -- a policy that could benefit U.S. consumers, since so many products are made in China.
Part of the motivation in keeping down inflation is to curb the slowdown in Chinese exports by keeping down prices.
Mark Williams, the senior China economist for Capital Economics, said this is probably the last time the bank will increase interest rates for quite some time, since the Chinese economy seems to be decelerating.
"We suspect that appetite for further tightening will nonetheless wane in response to evidence that the economy is slowing," said Williams, in a research note. "Inflation probably rose above 6% in June but is now widely expected to decline in the second half of the year."