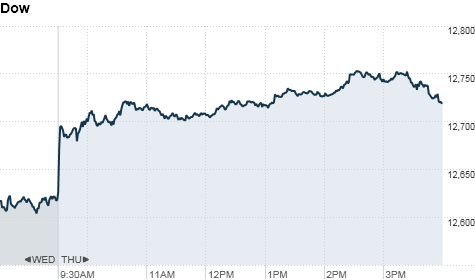 Click the chart for more market data.
NEW YORK (CNNMoney) -- U.S. stocks rose on Thursday as investors cheered the release of two stronger-than-anticipated reports on the jobs market, setting the stage for Friday's highly anticipated June jobs report.
At the preliminary close, the Dow Jones industrial average (INDU) gained 93 points, or 0.7%, to 12,719; the S&P 500 (SPX) added 14 points, or 1.1% to 1,353; and the Nasdaq Composite (COMP) climbed 39 points, or 1.4%, to 2,873.
Retail stocks jumped Thursday after several large chains reported better-than-expected June sales. Kohl's (KSS, Fortune 500) was the second-best performer on the S&P 500, up more than 7%, followed closely by Target (TGT, Fortune 500), Urban Outfitters (URBN) and Macy's (M, Fortune 500).
"The outlook for consumer discretionary and consumer staples remains positive, particularly going into the important back-to-school shopping season," said Stephen Carl, head equity trader at Williams Capital.
Financial shares also posted strong gains, with Bank of America (BAC, Fortune 500), JPMorgan Chase (JPM, Fortune 500) and American Express (AXP, Fortune 500) among the Dow's top performers.
Economy: Investors got two strong jobs-related economic reports before the opening bell, which gave stocks an early boost on Thursday.
"The data confirms that, although the job market remains weak, it's showing some signs of stability, and the weakness we saw in the second quarter was more related to the earthquake in Japan than a U.S. economic slowdown," said David Levy, portfolio manager with Kenjol Capital Management.
The U.S. government's weekly report on initial unemployment claims came out before the start of trading and was a bit better than expected.
The government reported 418,000 people filed for first-time unemployment benefits in the week ended July 2. Economists surveyed by Briefing.com had expected a total of 425,000 initial jobless claims last week.
Separately, a report from payroll services firm ADP found that employers in the private sector added 157,000 workers in June, far exceeding expectations.
The ADP report was expected to show that employers in the private sector added 60,000 workers in June. ADP revised its tally for May down to an additional 36,000 workers, after initially reporting a boost of 38,000.
The most-watched indicator of jobs growth comes Friday with the government's monthly report for June. After weak jobs growth in May, economists and traders aren't expecting much better results from June's numbers.
Economists surveyed by CNNMoney are expecting the report to show 120,000 jobs added to payrolls.
U.S. stocks recovered from early losses to close near session highs Wednesday.
Companies: Shareholders of NYSE Euronext (NYX, Fortune 500) approved the sale of the parent company of the New York Stock Exchange to Deutsche Boerse. Shares rose 3%.
News Corp. (NWSA, Fortune 500) fell slightly after the company announced it was shutting down the British tabloid "News of the World." The tabloid was at the center of the British phone hacking scandal.
Shares of drugmaker Pfizer (PFE, Fortune 500) fell more than 2.5% after the company said it was looking for buyers of its animal health and nutrition business units.
World markets: European stocks rose Thursday. Britain's FTSE 100 was up 0.9%, the DAX in Germany added 0.5% and France's CAC 40 gained 0.5%.
Asian markets ended mostly lower. The Shanghai Composite fell by 0.6%, the Hang Seng in Hong Kong ended flat and Japan's Nikkei ticked down by 0.1%.
Currencies and commodities: The dollar rose against major international currencies, including the euro, the British pound and the Japanese yen.
Oil for August delivery gained $1.91, or 2%, to trade at $98.56 a barrel.
Gold futures for August delivery rose $1.40 to $1,530.60 an ounce.
Bonds: The price on the benchmark 10-year U.S. Treasury moved lower, pushing the yield up to 3.15% from 3.09% late Wednesday.