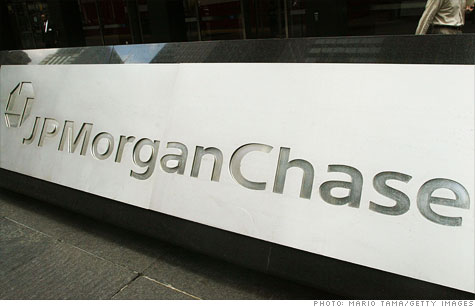 The SEC charged JPMorgan Securities with rigging transactions in the municipal bond market.
NEW YORK (CNNMoney) -- JPMorgan Chase will pay $228 million in a setttlement of charges that the bank's securities division rigged the market for municipal bond derivatives, state and federal regulators announced Thursday.
The Securities and Exchange Commission and state attorneys general accused the company's JPMorgan Securities unit of anti-competitive and fraudulent conduct in reinvestment transactions linked to municipal bonds.
According to the SEC, JPMorgan Securities reaped millions of dollars in ill-gotten gains by manipulating the bidding process for securities that state and local governments use to reinvest proceeds from the sale of municipal bonds.
The SEC alleges that JPMorgan Securities (JPMS) entered into "secret agreements" with bidding agents to obtain information on rival bids, a practice known as "last looks."
"Municipal issuers and investors didn't stand a chance against the fraudulent strategies JPMS and others used to guarantee profits," said Robert Khuzami, the SEC's top enforcement officer.
The charges covered at least 93 transactions in 31 states from 1997 through 2005, the SEC said.
Under the settlement, JPMorgan will return about $51.2 million to municipalities and other borrowers. It will also pay $177 million to settle "parallel charges" brought by other federal and state agencies.
JPMorgan agreed to settle the charges without admitting or denying the allegations.
In a statement, JPMorgan (JPM, Fortune 500) denounced the actions of "certain former employees on the municipal derivatives desk," which was closed in 2006.
"JPMorgan Chase does not tolerate anticompetitive activity or other violations of law," according to the statement.
The bank added that it assisted in the investigation and is working with regulators to "further strengthen its compliance programs in the public finance business."
The SEC also barred James Hertz, a vice president at JPMorgan Securities, from operating in the municipal bond business and other financial industries.
Hertz, who pleaded guilty to fraud in connection with the municipal bond bidding process, had been cooperating with investigators.
The settlement announced Thursday stems from an ongoing investigation into the murky world of municipal bond trading.
The SEC brought similar charges last year against Banc of America Securities and UBS Financial Services. Both firms settled.
For JPMorgan, it was the second time in as many months that the bank settled fraud charges brought by the SEC.
In June, the New York-based bank paid $154 million in connection with charges it misled investors in the sale of mortgage-backed securities during the housing bubble.