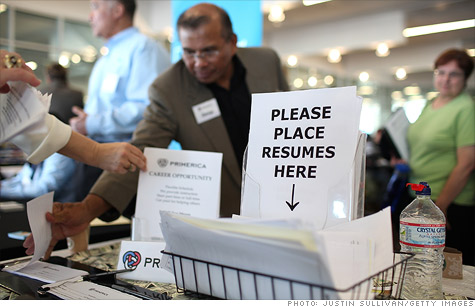 NEW YORK (CNNMoney) -- The job market got two optimistic signs Thursday as private sector employers added 157,000 positions in June and fewer people filed new claims for unemployment benefits, according to two reports.
Payroll processing company ADP said private jobs grew rapidly in June -- a figure that was much higher than expected and more than four times higher than the prior month. May's figures were downwardly revised to 36,000 jobs.
Economists were expecting a gain of just 60,000 private sector jobs, according to consensus estimates from Briefing.com.
Smaller businesses led the charge in June. Small businesses, defined as those with fewer than 50 workers, added 88,000 jobs in June. Medium-size businesses, defined as those with between 50 and 499 workers, gained 59,000.
Larger businesses, with 500 or more workers, added 10,000 jobs last month.
ADP's chief executive, Gary Butler, said in a prepared statement that June's data "are a significant improvement," especially given last quarter's 1.9% GDP growth.
"Given such strong employment results despite poor GDP, I am optimistic we will see improving job growth in the second half of the year," Butler said.
Initial claims: In a separate report Thursday, the Labor Department said the number of first-time filers for unemployment insurance fell by 14,000 to 418,000 last week. Economists expected 425,000 initial claims.
The 4-week moving average, which aims to smooth out volatility, came in at 424,750. That's a decrease of 3,000 from the previous week's average.
The government said that 2,500 Minnesota state employees filed for benefits because of the government shutdown.
Ian Shepherdson, chief U.S. economist at High Frequency Economics, warned that other factors like auto plant shutdowns could make claims volatile week-to-week in the coming months.
"We'd love to argue that we're sure this is the start of a renewed downward trend [in claims] -- and it might well be," Shepherdson wrote in a research note. "But the impact of the annual auto retooling shutdowns mean we have to be very skeptical of the claims numbers for the next few weeks."
On Wednesday, a report from outplacement consulting firm Challenger, Gray & Christmas said the number of planned job cuts rose 11.6% in June to 41,432.
The Challenger and ADP reports typically set the tone for the government's highly anticipated monthly employment data, which will be released Friday morning. After weak jobs growth in May, economists and traders aren't expecting much better results from June's numbers.
Economists surveyed by CNNMoney are expecting the report to show 120,000 jobs added to payrolls. Typically, the economy needs to add about 150,000 just to keep pace with population growth.