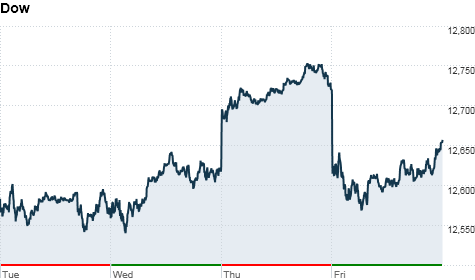 Click the chart for more market data.
NEW YORK (CNNMoney) -- U.S. stocks posted broad losses on Friday as Wall Street dealt with a dismal June jobs report that showed hiring crawled to a near standstill last month.
"We now have a clear indication of a stall in the U.S. economic recovery," said Frank Davis, director of sales and trading with LEK Securities.
The Dow Jones industrial average (INDU) sank 62 points, or 0.5%, to close at 12,657. The S&P 500 (SPX) fell 9 points, or 0.7%, to 1,344; and the Nasdaq Composite (COMP) fell 13 points, or 0.5%, to 2,860.
Investors focused on the Labor Department's jobs report, which showed the U.S. economy created only 18,000 jobs last month, a fraction of the 120,000 jobs that a CNNMoney survey of 27 economists had forecast.
June's unemployment rate rose to 9.2% from 9.1%, versus the decline to 9% economists had expected.
"There's no way to spin today's number into a way that's positive," said Liz Ann Sonders, chief investment strategist with Charles Schwab.
Investor reaction to the report was broadly negative. Twenty three of the 30 Dow members ended the session in the negative, with Bank of America (BAC, Fortune 500) and General Electric (GE, Fortune 500) the biggest laggards among the blue chips.
Meanwhile bond yields swooned as investors flooded into the relative safety of government bonds. Gold prices rose as well.
The yield on the benchmark 10-year note briefly fell below the 3% mark, down from Thursday's yield of 3.14%. Energy-related commodities also sold off, with oil falling more than 2.5%.
"We have had many, many months to stimulate this economy and still not seeing businesses hire," Davis said. "It's a real concern."
The government's jobs report came as a sharp contrast to two stronger-than-anticipated reports released Thursday on the employment market, which helped U.S. stocks rise sharply yesterday.
Despite today's losses, all three indexes posted gains in this holiday-shortened week. The Dow rose 0.4% while the S&P rose 0.2% and the Nasdaq rose 1.4%.
Companies: News Corp. (NWSA, Fortune 500) was the worst performer on the S&P 500 on Friday, sinking 4%, as the company continues to deal with the fallout stemming from the "News of the World" hacking scandal. Investors expressed concern that the hacking scandal may stop regulators from approving News Corp.'s bid to purchase British TV provider BSkyB.
Shares of JDS Uniphase (JDSU) fell 4.5% after Piper Jaffray lowered its price target on the stock to $21 from $25.
Economy: The Commerce Department said May wholesale inventories rose 1.8%, better than the 0.9% that economists had expected.
U.S. consumer credit rose by a seasonally-adjusted rate of 2.5% in May, the Federal Reserve said Friday. It was the eighth-straight monthly increase for that figure.
World markets: European markets ended Friday's session solidly lower after the jobs report. Britain's FTSE 100 ticked down by 1.1%, the DAX in Germany lost 0.9% and France's CAC 40 fell 1.5%.
Asian markets finished the week with gains. The Shanghai Composite ticked up 0.1%, the Hang Seng in Hong Kong jumped 0.9% and Japan's Nikkei rose 0.7%.
Currencies and commodities: The dollar fell against the euro, the Japanese yen and the British pound.
Oil for August delivery fell $2.47, or 2.5% to $96.20 a barrel.
Gold futures for August delivery gained $11 to $1,541.60 an ounce.