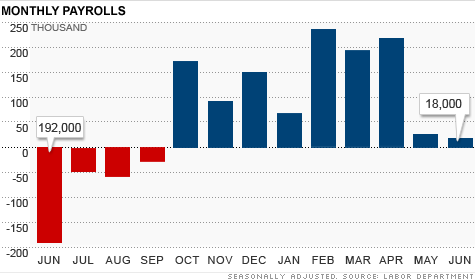 NEW YORK (CNNMoney) -- The job market hit a major roadblock last month, as hiring slowed to a crawl and the unemployment rate unexpectedly rose.

The economy gained just 18,000 jobs in June, the government reported Friday, sharply missing most expectations and coming in even weaker than the paltry 25,000 jobs added in May.
It marked the weakest month since September, when the economy was still losing jobs. Immediately after the release, stock futures plummeted and bond prices rose.
"At first, when I heard it, I thought maybe they had announced the wrong numbers, they were so bad," said Robert Brusca of Fact and Opinion Economics.
Economists were expecting government job losses, but few had predicted that private businesses would pull the reins back so tightly.
Private businesses added only 57,000 jobs in June - the weakest growth since May 2010. Earlier this year, businesses had been adding more than 200,000 jobs each month.
"You look at the charts for private sector growth and you could see, we were building a nice, steady crescendo," Brusca said. "All of a sudden the bottom fell out!"

The main culprit economists are point to: uncertainty.

Businesses are hesitant to hire given uncertainty surrounding federal spending cuts and tax policy, as Congress still has yet to reach an agreement on the debt ceiling and long-term measures for trimming the nation's deficit.
"I think a lot of this is the backlash to the impasse in Washington," Brusca said. "If you're a small business man, you sit back and say I'm not doing anything, I'm not hiring -- until I see what happens in Washington."

But a variety of other factors also could have contributed to the recent weakness.
"There isn't a single silver bullet -- there are a number of factors coming together," said John Silvia, chief economist for Wells Fargo. "The tsunami, floods, higher gas prices, and the stalemate in Washington all create a lot of uncertainty."
More bad news: June's jobs report follows an already dismal report from May. Economists, for the most part, were hopeful that June would be better, predicting about 125,000 jobs added during the month, according to a CNNMoney survey.
But instead, the June jobs report brought bad news on nearly every front.
The government revised the jobs numbers for April and May both downward, average weekly hours and wages fell, and the unemployment rate rose to 9.2% from 9.1% in May.
Meanwhile, the total number of unemployed people rose to 14.1 million.
A whopping 44% of those folks, or 6.3 million people, have been unemployed for 6 months or more.
The average length of unemployment is 39.9 weeks -- an all-time high.
The underemployment rate, which includes people who want to work full-time but are forced to work part-time, rose to 16.2%, its highest rate since December.
Overall, the job market is still far from a full recovery. The economy needs to add about 150,000 jobs a month just to keep pace with population growth.
So far, the nation has only gained back about a fifth of the 8.8 million jobs lost since the recession began.
Playing politics: Speaking via his first-ever Twitter town hall earlier this week, President Obama admitted job creation hasn't been as robust as previously hoped, but defended his administration against Republican claims that stimulus funding did little to create jobs.
His Council of Economic Advisors estimates that the Recovery Act saved at least 2.4 million jobs that would have otherwise been lost if not for the stimulus.
The disappointing jobs report on Friday immediately became a springboard for political rhetoric launched from both sides.
"The American people are still asking the question: where are the jobs?" Republican Speaker of the House John Boehner said in a statement. "Today's report is more evidence that the misguided 'stimulus' spending binge, excessive regulations, and an overwhelming national debt continue to hold back private-sector job creation in our country."
Speaking in a press conference later in the morning, President Obama reaffirmed the job market's shortcomings.

"Today's job report confirms what most Americans already know: We still have a long way to go and a lot of work to do."

The president urged Congress to pass bills to reform patent laws, trade agreements and rebuild infrastructure including highways and railroads -- all of which, he said, would help job creation.
"I believe that we can make things better," he said.
--How has your job search been going recently? Send us your story and contact information, and you could be featured in an upcoming story on CNNMoney