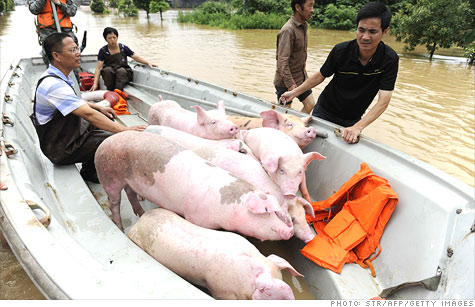 Chinese farmers rescue their pigs in flood waters after heavy rains hit east China in June. Pork prices have surged more than 50% in China over the last year.
NEW YORK (CNNMoney) -- Think prices are rising rapidly in the U.S.? Inflation is going even more hog wild in China.
China's Consumer Price Index -- a broad measure of prices consumers pay for food, housing, clothing and other common expenses -- showed prices rose 6.4% over the last 12 months ending in June, China's National Bureau of Statistics reported Saturday.
That marks the fastest pace in inflation since July 2008 and an acceleration from May's 5.5% rate.

But unlike in the U.S., where inflation has been driven primarily by a surge in gas prices, economists say China's inflation problem is due instead to soaring food prices -- namely pork.
Food, which accounts for more than a third of an average Chinese person's monthly expenses, rose 14.4% year-over-year. Meat and poultry prices were the worst culprit in that category, surging a whopping 32.3%. Pork prices rose 57.1%.
Mark Williams, senior China economist for Capital Economics, estimates pork prices alone contributed as much as 2 percentage points to June's overall inflation rate.
The retail price of pork has increased 15% in the past four weeks, and is now more than 50% above its year-ago level, he said in a note to investors.
"A decline in China's pig population at the turn of the year is now resulting in a surge in pork prices," he wrote.
While that hurts the spending power of Chinese consumers who buy pork, it's also a good sign that China's inflation is not broadbased, said Carl Weinberg, chief economist with High Frequency Economics.
"Food prices are the only thing that have gone up significantly," he said. That tells me it's not an overall price change."
China's government has said that taming inflation to a rate around 4% is one of its key economic goals for the next five years.
Both Weinberg and Williams think it will miss its target for this year, but the government won't be too concerned. After raising interest rates three times his year -- including one rate hike this week -- an excess of credit is not the problem.
"Inflation is high not because of excessive lending, interest rates being too low, capital inflows or even a pick-up in demand," Williams said. "Increased inflation is simply the result of a cyclical decline in pork supply which will reverse itself in time."
As for Chinese exports to the United States, Weinberg says not to worry -- rapidly rising food prices are not likely to have a major impact on export prices.
"We're not going to see an increase in the prices of T-shirts at Wal-Mart or iPads at the Apple Store because of inflation in China," he said.
--CNN's Helena Hong in Beijing contributed to this report.