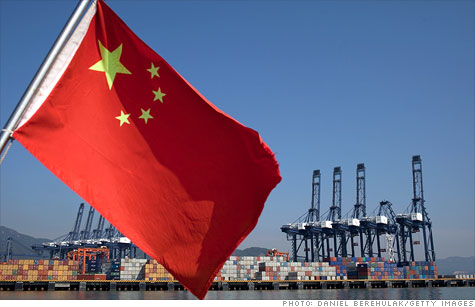 China reported a $22.3 billion trade surplus in June.
NEW YORK (CNNMoney) -- China's trade surplus continued to grow in June, even as the export powerhouse's manufacturing sector slowed slightly.
China recorded a $22.3 billion surplus in June, up from a $13.05 billion surplus in May, China's General Administration of Customs said Saturday. A trade surplus occurs when a country's exports outnumber its imports.
China is the world's second largest economy and the second largest trading partner of the United States, after Canada.
But as China's economic growth has far outpaced sluggish growth in the U.S., it has tried to encourage more domestic consumption and place less emphasis on exports.
Export growth in China has been surging, but recently it has slowed slightly. In June, exports totaled $162 billion, up 17.9% year-over-year.
That marks a slight slowdown from a 19.4% growth rate in May.
Meanwhile, imports grew at a 19.3% annual rate, to $139.7 billion in June.
Earlier this month, other government data showed China's manufacturing sector slowed and new export orders declined in June.
Contrary to popular American belief, exports count for a very small percentage of China's overall economy, according to Carl Weinberg, chief economist of High Frequency Economics.
Rather, China's economic growth is more driven by its rapid modernization, as its poor rural population starts moving into its sprawling cities.
"Their trade balance is pretty darn good and is going to continue to remain good, but trade is not as important to their economy as we think it is," he said. "With 900 million people left on the farms to move into the cities, that's what's going to drive growth."
China reported Friday that consumer prices in June surged 6.4% from a year ago, driven mainly by skyrocketing prices of pork and other food.
China is also expected to report its second quarter gross domestic product figures on Wednesday. Its economy grew at an annualized rate of 9.7% in the first quarter.
--CNN's Helena Hong in Beijing contributed to this report