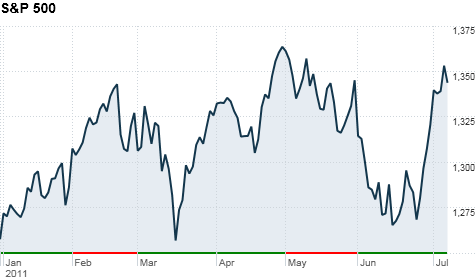 Stocks have been on a rollercoaster ride, particularly in the last three months, on concerns a slowing U.S. economy may hinder corporate profits. Click the chart for more market data.
NEW YORK (CNNMoney) -- After spending two months focused largely on the state of the U.S. economy, investors will get a chance to turn their eyes back to Corporate America this week.
Several key companies will report their results for the second quarter this week, with investors getting profit reports from Dow members Alcoa (AA, Fortune 500) on Monday followed by JPMorgan Chase (JPM, Fortune 500) on Thursday. Citigroup (C, Fortune 500) and Google (GOOG, Fortune 500), among others, are also on tap to release their latest sales and earnings.
"This is where we can get down to the fundamentals of this market and finally see how companies are actually doing in this economy," said Jack Ablin, chief investment officer at Harris Private Bank.
While only a dozen or so of the S&P 500 components are reporting this week, Alcoa, Google and JPMorgan are among the biggest names in their respective industries and tend to be good, broad indicators of how companies are expected to perform, Ablin said.
Expectations for this quarter's profits have become more subdued as of late as analysts and investors continue to worry about the health of the economy. The Labor Department reported Friday that employers created only 18,000 jobs in June, far less than what economists had expected.
Stocks dropped Friday on the jobs news but still finished the week with gains.
While this quarter's results will be closely watched, strategists said the market will be listening even more closely to the outlooks that companies give for the third quarter and remainder of the year.
"I'm going to be looking at economic-cyclical companies and particularly commodity-sensitive companies to see if companies have been able to keep productivity and profit margins high, despite higher commodity costs," said Liz Ann Sonders, chief market strategist with Charles Schwab.
Sonders said she remains optimistic about how companies did in the second quarter, saying that she believes the signs of an economic slowdown are more tied to the Japanese earthquake and bad weather in the U.S. earlier this year.
"The macroeconomic concerns have turned into microeconomic concerns about companies, and I don't think it's really justified," Sonders said.
Outside of earnings, investors will have several economic reports to digest this week, including June retail sales figures as well as the closely-watched inflation readings on producer and consumer prices.
On the Docket
Monday -- Second-quarter earnings reports kick off in earnest after Monday's closing bell with results from Dow component Alcoa. The aluminum company is expected to have earned 32 cents per share.
There is no economic data scheduled for release on Monday.
Tuesday -- Investors will get the U.S. trade balance figures for May in the morning. Economists surveyed by Briefing.com expect the U.S. posted a $44 billion trade deficit in May, slightly wider than the $43.7 billion deficit for April.
Minutes from the Federal Reserve's Federal Open Market Committee meeting from June are also due out in the afternoon.
Wednesday -- The Energy Department's weekly oil inventories report comes out in the morning.
Fed chairman Ben Bernanke will also begin his semiannual testimony to Congress about monetary policy and the economy on Wednesday. Bernanke will appear before the Committee on Financial Services of the House of Representatives.
In earnings, fast food company Yum! Brands (YUM, Fortune 500) as well as hotel chain Marriott (MAR, Fortune 500) will report their earnings after the closing bell.
Thursday -- JPMorgan Chase reports its second-quarter results before Thursday's opening bell, with analysts expecting the commercial banking giant to have earned $1.21 a share according to Thomson Reuters.
There are several economic reports out Thursday morning. The Labor Department will issue its weekly jobless claims report and its June producer price index report, also known as wholesale inflation. The Commerce Department issues its reports on June retail sales as well.
Economists forecast that weekly jobless claims held mostly steady at 419,000 claims, up 1,000 from last week. Retail sales are expected to fall 0.2% for June and the producer price index is expected to fall 0.3%.
Bernanke's testimony to Congress continues, with the Fed chairman appearing before the Senate's Committee on Banking, Housing, and Urban Affairs.
After the bell, Internet search giant Google will report its quarterly results. Analysts expect that Google earned $7.86 a share.
Friday -- The Labor Department releases its June consumer price index data, the nation's most common read of inflation, in the morning. Economists are looking for CPI to fall 0.1% versus the 0.2% rise reported in May.
Investors will also get June industrial production figures, the July reading on the University of Michigan consumer sentiment index and the Empire State Manufacturing Index.
Citigroup and toy maker Mattel (MAT, Fortune 500) are slated to report their latest quarterly results in the morning as well.